THE RIDGE CASINO
Mpumalanga is a quiet province and you may think that means there is no much to do there. However, this is not true, especially for those who take the time to stay at The Ridge Casino and Entertainment World. Owned by the Tsogo Sun group, this casino and hotel complex is an all-encompassing hub that is a great place to stopover when you are heading somewhere else, or to stay for a few nights or longer. What makes it so great? Well, besides the excellent design and the pure luxury it offers, there is so much to do for those who visit. There's a casino for those who want to place their bets, a luxury hotel, great dining options and so much to do, thanks to the directly adjacent mall.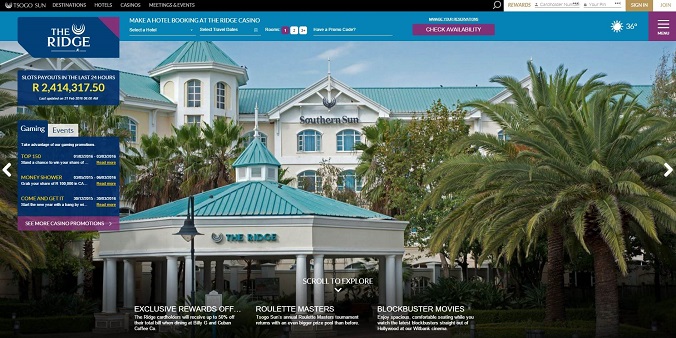 The casino offers those who want to play a truly wonderful experience with both table games and slots. If you like the idea of placing big bets, you'll have more than enough opportunities to do it, both on the tables and the slots, while those who are betting on a budget will find that they can also get their fair share of the wins even with smaller wagers. The slots include classic, progressive, three line, five line and multi-line and there is really something for every type of player to experience. As for the tables, you'll find that there is no shortage of variety too. Play poker, roulette, blackjack or head over to the video poker machines and see if you can get that winning hand.
Fine dining is on the menu thanks to the many restaurants and bars that make up the complex's eateries. Those who want to lounge as they dine can do so at Baxter's Lounge Bar, while there's a great buffet to take advantage of at Billy G Buffet. And for those with a sweet tooth, don't forget the Cosmic Candy Shop of the Cuban coffee shop for a slice of cake and a great cup of coffee. The casino is directly linked to the Highveld Mall, and that means you have even more options just a short walk away.
Those hoping to make a night of it will have no problem booking accommodation in one of the 40 rooms offered at the Southern Sun. Every room is well styled and offers guests the facilities to make their own tea and coffee, watch TV or just have a long nap. And there's even WiFi. Additionally, those who like spending time in the outdoors can head to the garden to relax and soak up a little sun or to the outdoor pool for a splash around. Kids are taken care of too in the entertainment centre, making for a really well-rounded experience.
If you're going to visit Mpumalanga or you're just passing through, make sure you stop in at The Ridge Casino and Entertainment World for a few nights or even just to have a look. It's well worth your time and will make for a fun diversion from a long trip or from daily life.