HEMINGWAYS CASINO A UNIQUE AND MAJESTIC DESIGN CASINO IN EAST LONDON
Hemingways Casino Complex is very near to the East London Airport in the Eastern Cape, and with its unique and rather majestic design and whole host of facilities, it is truly one of the most wonderful places in the entire country to visit and to stay. An ideal place from which to begin seeing the entire province, Hemingways is open all day and all night, making it the perfect place to go both for those who just want to relax and for those who want to party it up. With around the clock services including security, food services and more, it is able to offer guests the chance to do… well, anything they want to. Additionally, the mall that forms part of the complex is a great place to shop for anything from jewellery to clothing, have your nails done, do your banking and much more.
The casino itself is a world-class establishment that offers every type of gaming you can imagine. There are tables that range from a simple R5 to a large R1 000 for those who like to spend a little more on blackjack, roulette, poker and more, and the slot machines, of which there are more than 500 for guests to choose from, allow for gaming all night and all day at a cost of as little as a cent to as much as R25. The casino makes provision both for smoking and for non-smoking players and those who want that VIP treatment will also benefit from the Cotton Club, an exclusive part of the casino that will make you feel as though you've really made it to the big time. With video poker machines, slots and tables specifically catering to high rollers, this is a wonderful part of the casino for players with a little more to spend.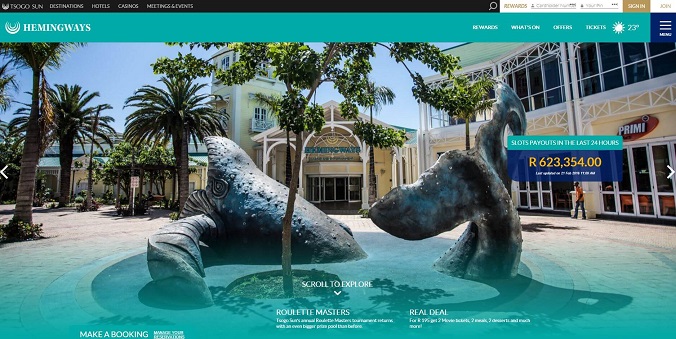 Hunger can put a real damper on the playing experience, but that is not something you'll need to worry about when you're at this casino complex. You can simply head over to one of the fine restaurants, such as the Key Largo, all of which offer some of the most exquisite meals made by real professionals. Seafood is a real specialty here and should you have a taste for the sea, you can order it to be made fresh just for you. Various bars, cafes and fast food eateries are also open to assist you with a meal when you want it.
The accommodation facilities offered at the complex are some of the finest in the area and the four-star hotel offers over 100 rooms, all of which have a sub-tropical theme. The hotel has a pool, a gym, a conference centre for those on business and an entertainment centre in the adjacent mall for the kids, ensuring that anyone who comes to visit has fun from the time they arrive until they leave. With everything thought through by the designers of the complex, guests' needs can be taken care of at any time, ensuring they have a wonderful stay no matter how long they're there.