VISIT GOLDEN HORSE CASINO AN EXCEPTIONAL CASINO IN PIETERMARITZBURG
Pietermaritzburg may not seem like the usual place in which to have a casino. It is not one of the largest places in South Africa, nor does it see a lot of tourism traffic, but for those who understand that sometimes, understated is better, it is perfect. The Golden Horse casino has PMB as its home and this lush and green area provides the perfect space in which visitors can enjoy a few days away or more. With some of the best casino facilities out there, brilliant conference facilities, a golf range and much more, Golden Horse Casino is becoming more and more popular each day with international and local visitors.
Visitors to the casino will notice right off the bat the exceptional design. The classic and elegant casino is beautiful and provides the perfect backdrop to the many rooms, machines and tables in which players can spend a little cash for a lot of return. With over 450 slots machines and another 16 tables to play on, both smokers and non-smokers will be spoilt for choice no matter which part of the casino they choose to play at. The table games take both large and small bets from R5 up to R200, which means they're ideal both for the larger spenders and for those who are playing on a budget. Of course, the really high rollers can take advantage of the massive R1 000 maximum limit on the blackjack tables, which could yield a massive return.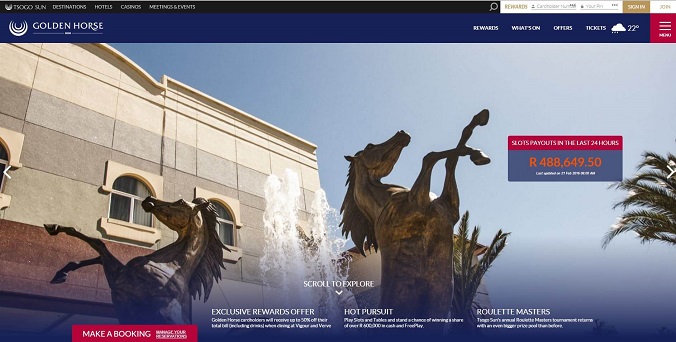 In operation all day and night, and every day of the week, the casino also offers players the chance to play at any of its wonderful slot machines. Some of them are classic; some are video slots and all of them offer a fun experience you won't soon forget. As for those who want something a little more private, the Rosewood is the casino's private club in which there are just an exclusive 40 slots and 4 tables.
Sustenance is the fuel of gaming and for those who are ready to grab a bite, the casino is able to offer many choices, all of which will suit visitors with all kinds of palates. The Asian fusion outlet promises a mix of great Oriental foods on the go while Galitos promises Portuguese fare any time of the day. As for the ladies, be sure to visit the Diamond Lounge, which is an ideal place for a catch-up and a cocktail.
The casino's hotel is an ideal place to lay your head for the night (or a few, for that matter) and with a four-star rating, has to be one of the best hotels in the area. 96 comfortable and well-kept room promise guests a great night's sleep, while those on the lookout for something more luxurious can enquire at the front desk. As for transport, the front desk can assist again in making travel arrangements and ensuring that no matter how long the stay is, the memories are everlasting. So why try Golden Horse Casino? Well frankly, the question should be, what are you waiting for?