Cleopatras Gold Slot : Play Cleopatras Gold Slot for real money
One of the Real Series games offered by Real Time Gaming and Yebo Casino, Cleopatra's Gold is set in ancient Egypt when cats were worshipped and the great pyramids we still see today were built. All of the symbols in the game, as well as the background and music, add to the theme and images such as the pyramid, scarab, cat and the Eye of Horus lend themselves to the old Egyptian feel of the game. The game offers players relatively simple functionality, as well as features such as autoplay and free spins, making this a game that is certainly worth spending a little time on.
As with many of the newest types of video slots, the game has five standard reels with 20 active paylines for players to bet on. The maximum wager is only 20 coins, which makes this game suitable for beginners and for the types of players who like to make their money last when they play the slots. Cleopatra, the Queen of the Nile, is the wild symbol in this game and should you manage to make her appear five times in one spin, you will earn a hefty jackpot of 10 000 coins. Even if she appears only to complete a winning combination, you'll still get a nice reward with a double payout.
The scatter symbol, which is the pyramid icon in this game, offers players a chance to access a great bonus round if it appears more than three times. If you can get five scatter symbols to appear, you will not only unlock the bonus game, but will also be paid out a small but enjoyable sum of 500 coins. The bonus round offers players up to 15 spins, completely free, and what's more, any payouts from the free spins will be multiplied by three.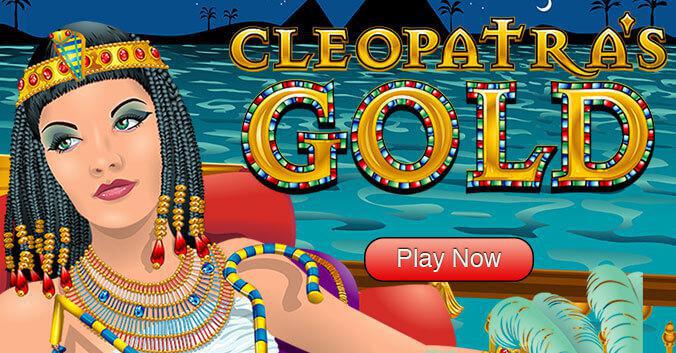 The game offers players a random progressive jackpot and this is in no way dependent on the amount you bet. Whether you decide to bet high or low doesn't matter at all if you're hoping to get the progressive jackpot. Additionally, the progressive jackpot is not dependent on what symbols appear on which paylines. In theory, you could play the game for a hundred turns without getting any winning combinations, and still leave with a decent-sized cache of cash if you get the progressive jackpot. If you're hoping for one of the fixed jackpots, keep in mind that you will need to find five cats or five scarabs on a payline to win the set amount of 1 000 coins.
While the game of Cleopatra's Gold does offer some animation of the symbols, you probably won't notice these while you're playing, as they are quite subtle. The background is just as unassuming and the music, while right on point in terms of the theme, doesn't really add much in terms of surprise or excitement. Of course, if you are playing the game for sheer enjoyment, or you're focused on getting a few wins in, you probably won't mind these subtleties much.