Caesars Empire Slot Review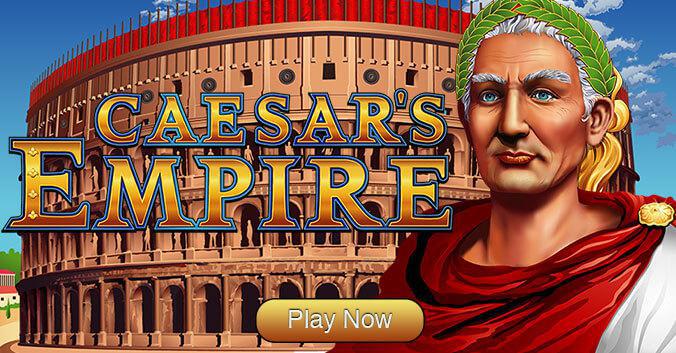 Created by Real Time Gaming and brought to your screen by Yebo Casino, the game of Caesar's Empire is another one of those historically-based gems that players really love.
Get 50 Free Spins on Caesars Empire – South African no deposit bonus
Available for New players from SA, Namibia, Lesotho and Swaziland
Based on the rise and fall of the Roman Empire, this game incorporates a lot of what we know about the period into its imagery. The image of Caesar, for example, features as an imprint on a golden coin while the famed beauty Cleopatra makes an appearance in all her Egyptian glory. Some of the other symbols you're likely to see when you play include the Colosseum, helmets and shields as well as cards from ten to Ace. The inclusion of cards in the game is rather surprising, given that these are a relatively modern construct, and not really Roman.
When you play, you're likely to notice that the images of both Caesar and the Colosseum animate, which makes sense as they are the most important symbols. Caesar is the wild symbol and if it appears on any line, it will transform itself into an illustration of the actual king, rather than a golden coin. Additionally, should you hit on this symbol, you'll get your payout multiplied by three.
As for the Colosseum, hitting on this symbol, which is a scatter, will turn the background of the symbol from day to night, giving you a different view of this icon of Roman history. As the scatter symbol, the Colosseum also offers you a scatter payout if it appears two or more times. Get five of these to appear on any of the reels and paylines, and you'll get a pleasant payout of 100 coins.
One of the game's most play-friendly features has to be the turbo spin function. When you opt for this functionality, all of the reels will stop at the same time, which means you won't have to wait for each reel to stop individually to see if you've won. This is great if, like most people who play to win, you don't like to wait.
If it's free spins you're after, you'll need to try to get Caesar to appear in any of the first four reels as well as a Colosseum in the fifth reel. If you manage to hit on this combination, the Colosseum will transform into either a Caesar symbol or Cleopatra symbol during your free spins. This could increase your chances of a hefty payout, as the chances of getting a winning combination will be quite high.
So what should you be aiming for in this game? You'll probably want to set your sights on Cleopatra who will give you an impressive 5 000 coin payout if she appears five times. The game does offer a progressive jackpot too but this is completely random and if you want to get it, you'll have to keep playing.
Overall, the game provides a really enjoyable interface and like most video slots from this developer, is easy to understand and use, with payouts that are plentiful, but not excessive.