Play Blackjack perfect pairs at Yebo casino for free no download required
One of the most popular types of blackjack worldwide, Blackjack Perfect Pairs is a game that could net you a payout of 30:1 when you play, and even if you play games for the fun and not necessarily for the wins, trying this game at Yebo Casino is sure to provide you with hours of entertainment. So what makes the game so great? Well, for one thing, the game works on the same rules as traditional online blackjack, so if you've played the latter you should have no trouble whatsoever playing the former. Also you can place an extra bet on the table in addition to your normal bet which means more chances to win.
The rules in blackjack perfect pairs are about as straightforward as they get. When you play the Realtime Gaming version of this table game, you get the extra bonus of being able to claim money from the side bet even if you lose the main game. Wondering how it works? Well once you've placed a main bet (and a side bet if you want to), the cards are dealer. You'll get two cards, both of which will be dealt to you facing up, while the dealer will get two cards, one of which will face down and the other which will face up. If you have a blackjack, you will immediately receive a payout of 3:2 while if the dealer has blackjack (which they will check by sneaking a peek at the down-facing card), the hand is over and you'll have to start a new hand.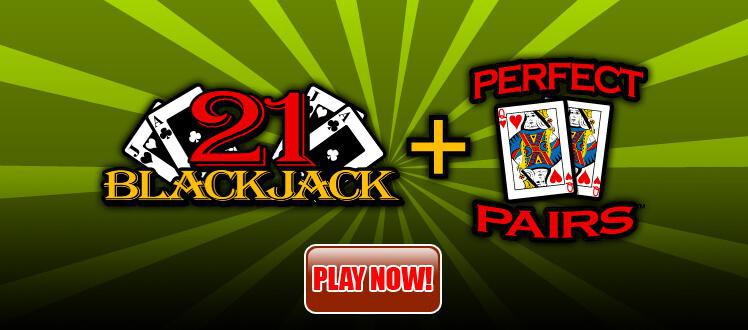 As with traditional blackjack, the dealer has to stand if their hand totals more than 17, and will have to hit if their hand totals 16 or less. It is as this stage that the idea of the 'perfect pair' kicks in. Any players who have a pair from the two cards they were initially dealt and that placed a side bet will win a nice sum of cash right there and then. Those who placed a side bet but didn't get a pair from their first two cards will be relieved of their side bets. Then, the splitting, doubling down and dealing of other cards will commence in the race to try and get 21.
One of the most impressive parts of this game is that certain pairs payout more than others, and in the traditional game, a pair of different colours (like a two of hearts and a two of spades for example) will usually pay out at about 5:1. A pair of the same colour will usually pay out at double that rate while a perfect pair, which is a pair of the same suit (like two queens of clubs) could net you a payout of 30 times your bet. Be sure to check the paytables to determine what your potential perfect pair payout could be.
There is one tip that the experts say could help you get closer to a win in this game and that is to always take the side bet though for the most part, a win will depend on the luck of the draw.