Voodoo Magic Slot : Play Voodoo Magic Slot for real money
There are probably a number of people who may find the name of this game a little creepy, but for those who are not afraid to traverse the idea of voodoo, this game is quite brilliant. Created by Realtime Gaming and available to play now at Yebo Casino, the game of Voodoo Magic is one that has exceptional graphics and a very clever theme. With 13 paylines (and yes, the 13 is probably on purpose) and five reels, this game ventures into the realm of the macabre where skulls, snakes, creepy candles and voodoo dolls all make an appearance. However, in this video slot game, you shouldn't be scared of the symbols; you should embrace them for the wins they have to offer up.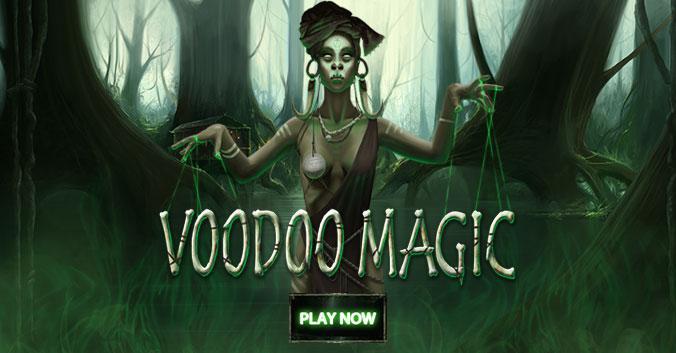 The idea of creating a game that is based on a subject people find a little scary is one that was risky, but the game has become popular with those people who don't scare easily. For the ones who are a little iffy about whether or not they're willing to risk playing with symbols such as voodoo dolls and scary priestesses, there is always the autoplay which will allow you to spin the reels without actually having to touch the spin button. This is as simple as setting up your parameters and letting the game do all of the work for you, while you sit back and collect the rewards at the end of the time or spin period. That is really how simple it is to start winning with this game.
The rules of the game are simple and if you've played any of the other slots created by RTG, wagering on this one will be a snap. The wild is the priestess who is a little creepy, but will do you the favour of substituting for almost any other symbol so that you can complete a winning combination. The scatter, or voodoo doll, is a powerful symbol and you won't need to stick pins in it to get the rewards it holds. This symbol is the key to unlocking the free spins round, aptly titled the black magic round. In the black magic round, you'll be gifted with up to 25 free spins and you'll have the chance activate the magic multiplier, which will increase as the spins are spent.
The game accepts wagers that are both high and low and this means that even if you prefer to spend no more than a rand per round, you'll be able to do it. as for the prizes on offer, finding five of the wild symbol will give you a handsome 2 000 coin reward while the weird guy with a plate in his mouth (there's really no other way to describe him) will give you 1 250 coins should he appear five times. Wondering about the progressive? Sorry, this game doesn't offer one, but what it does have is an autoplay mode and a brilliantly executed theme that will keep you engrossed. You will love this game if you value quality above wins.