Texan Tycoon Slot Game Review
Before you rush to put on your boots and cowboy hat, remember that the game of Texan Tycoon is one to be played on your computer. And while you won't get to hog tie any steers or eat a large Texan T-bone, consider the amazing jackpots to be won in this five reel game with 25 paylines, created by Real Time Gaming and brought to you by Yebo Casino. This penny slot is set in the oil fields of Texas where one tycoon is making a fortune from the discovery of black gold. You'll find him making an appearance on the reels, along with other symbols such as the oil barrel, the oil well, the truck and the bundles of cash. The face cards, ten and nine also make an appearance, but they're only there to fill the reels.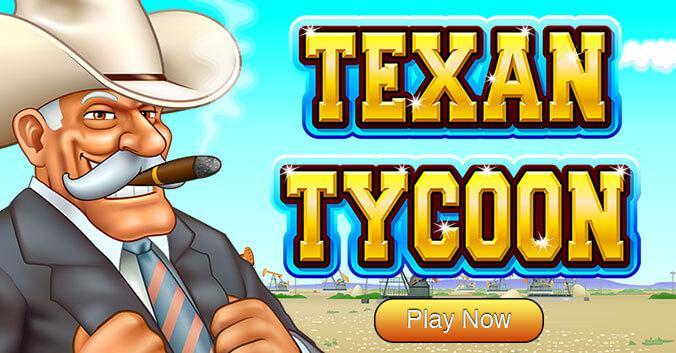 This game is a little on the wild side in terms of symbols and theme, but the number of features is a little on the tame side. The wild symbol is the Texan tycoon himself who only appears on reel three but has the power to substitute for other symbols. This means that should he show his face on the third reel when you're playing, you could find yourself with a winning combo that will multiply your winnings by as much as ten times.
But that's not all cowboys and cowgirls. The game's scatter symbol, the oil well, is also one that has a lot of wealth to uncover. Find two or more of these oil wells and you could be getting a payout of up to 200 times what you originally bet. Bet the maximum and that means you might be richer than if you struck oil yourself. If you happen on three or more of the symbols, you'll access the free spins feature which will give you the opportunity to win up to 25 free spins, all of which will have a triple multiplier, and you'll be able to re-trigger free spins too.
The payouts in this game are more than satisfactory with a 1 500 coin fixed top payout for finding five of the bundles of cash. Even the trucks offer you a decent stack of cash with a 1 000 coins payout when you find five of them. If you're playing this game though, you're probably much more interested in the progressive jackpot, which is a randomly triggered one that can be won at any time. And how much do you stand to win? How does a huge pot of over R200 000 sound? If that's the kind of cash that appeals to you, you'd better start playing now.
If there's one thing you can say about the game of Texan Tycoon, it's that it has more than enough features for players of all experience levels to enjoy. It's got jackpots, a progressive, bonus features and a great theme that offers you rootin' tootin' fun whenever you choose to play. This is a game you should definitely spend a little cash on, as the rewards for playing could be just as big as striking oil.