PLAY AT SUN CITY CASINO THE GREATEST CASINO IN SOUTH AFRICA
If you live in South Africa, you have doubtless been to Sun City Casino at some point in your life. This is the casino that has set such a high bar in terms of casino standards, that there are really few others that can compete with it. Deep in the North West Province, close to Hartebeespoort Dam and the Magaliesburg mountains, Sun City is one of the many casinos that pulls in local and international visitors on every day of the year. With many things to do and see including the Million Dollar Golf Challenge, the Valley of the Waves and the many casino floors, this is a 'must-not-miss' place to be for those who want to see and be seen.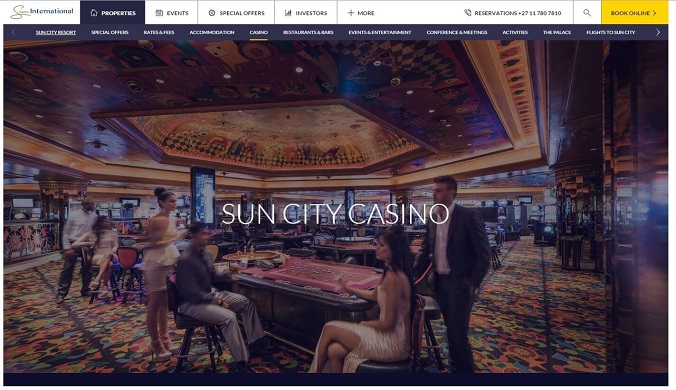 Let's talk about the vast array of casino floors at Sun City Casino. Not only will you find at least 3 different floors in the many different parts of the complex, but there have over 850 different slots for you to try, many with high progressive jackpots. Sun City Casino has made many a millionaire over the years and not just on the slots but on the tables too. Some of the games you can expect to enjoy include baccarat, roulette, poker, blackjack, craps and much more, and for those who come to the casino with a lot of cash, looking for the VIP treatment, the casino can accommodate them with its special Salon Prive, which is open 24/7. Both smokers and non-smokers can be catered for and those who are hoping to leave much richer than when they came in have a real chance to do it.
Of course, a great casino complex wouldn't be great without a range of dining options, and Sun City does not disappoint in this arena. Every type of taste bud is catered for and you can enjoy a wonderful meal at the Bush Bar and Lounge, sip a few summer cocktails next to the pool or even grab a quick coffee at any of the many coffee shops around the complex. For those hoping for something very special, it is worth trying out the King's Tower, which is an exclusive restaurant that is 70 metres above ground, an intimate and rather thrilling way to enjoy your dinner.
The kids' entertainment centre is a real sight to behold and if you're bringing the family, ensure you don't miss out on the lion races, the many games and the great prizes to be won for children of all ages from 1 to 18.
The complex is not short on accommodation options either and from the main hotel to the Cascades, the Palace of the Lost City to the Cabanas, those who want to make a night of it will be well looked after. Of course, for those who don't want to stay within the complex itself, there is also the nearby Pilanesburg National Park which offers a range of accommodation options, as well as game drives and loads of activities for the kids too.