Shark School Slot Game Review
For a game that is almost two years old to be as popular as this one is, is an anomaly. However, when you take into consideration that Shark School was developed by Real Time Gaming and brought to you by Yebo Casino, it all starts making sense. This video slot offers a huge 50 paylines and five reels, as well as a myriad of opportunities to win. The theme gives players the chance to head over to a school that is entirely underwater and where teachers and students are all underwater creatures. The nerdy angel fish hiding in the anemone, the pretty popular angel fish and the octopus teacher are all some of the symbols you'll see when you play.
The game's wild symbol is the octopus teacher who may have a rather stern look on his face, but will gladly substitute for any other symbol to help you get that winning combo. Be warned though, he won't substitute for the scatter, which is the school symbol and could net you a multiplier of up to 100 times. The scatter offers you loads of fun though and if you find three or more, you'll be able to select one of the three schools for a chance to access one of the three bonus games.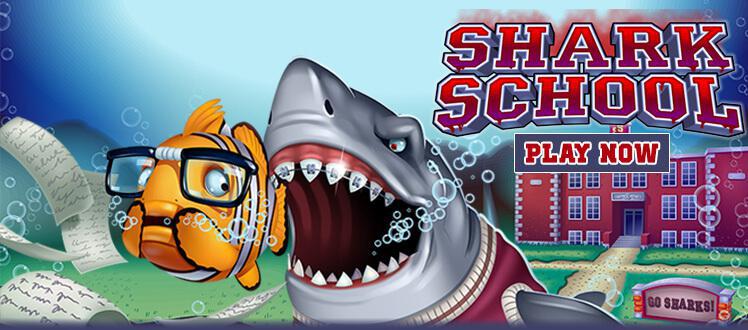 The first bonus game is titled "Swim Fishy, Swim" and tells the story of a little fish being chased by a voracious shark. What can you do to help? Well, not much to be honest. You'll have to wait and see if the fish manages to escape and will be rewarded with free spins depending on how quickly or slowly the fish gets away. The second bonus game is called "Bad Sharky!" and in this one, you'll be given up to 10 free spins. Additionally, the shark symbols will cover the whole of the third reel, giving you much more potential payouts. Finally, the third game, known as "Don't Eat the Teacher" will give you free spins where any shark that shows up on the fifth reel will try to eat the octopus teacher who appears on the first reel. If the teacher makes it out alive, you'll get more free spins and a higher multiplier. Additionally, if the octopus teacher makes it through 25 rounds with that shark, you'll reap the reward of 25 free spins.
If you're wondering whether the game is worth adding to your "to play" list, know that the multiple chances to win make it well worth your time. The game offers decent fixed payouts as well as progressive jackpot, but what is really enticing has to be the number of bonus games. There are many video slots out there that don't offer a bonus game at all, so this one is something special. If you want to play but you have no time, consider using the game's autoplay feature to do all of the reel spinning for you. However, if you prefer to add a little control to your gameplay, use the game's "stop" feature to stop the reels where it suits you.