Sevens & Stripes Slot Game Review
If you like the idea of classic slots, you should play the game of Sevens & Stripes created by the knowledgeable folks at Real Time Gaming. Now available for play at Yebo Casino, the game is a simple three-reel, one-payline slot that is as simple to play a game as any other out there. Those who are more used to video slots with up to 50 paylines may find this game a little repetitive, but those who prefer games that are simple and classic will simply love it. As the name may have already revealed, the game is based on one of the most iconic symbols of all time, the Star Spangled Banner.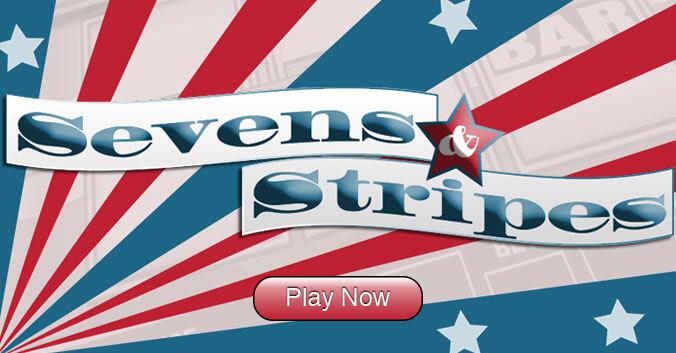 The theme is portrayed in the American colours, red, white and blue, and the symbols all appear on one of those three colours. Even the bar symbols are black and red. This is a machine that offers less variety in terms of wagering parameters than some of its video slot counterparts, but this make it ideal for those players who want to keep their bets low. Players will also find that they can change the wagering parameters to go down as low as 50 cents or as high as R5, and those who want to try and get the maximum payout would be well advised to keep their bets high.
If the reels reveal a win, it is also very easy to cash out by simply clicking the cash out button. If you're used to video reels, you'll probably notice that this game does not have a "stop" button. Since it's only three reels though, this might be a bit of overkill. The game also features a progressive jackpot but you'll have to get a red seven, blue seven and white seven on the reels in order to be awarded it. You will also need to have bet the maximum. However, should you manage to get the progressive, you will be rewarded with a large sum of over R100 000.
There are a number of other jackpots to be won too, including a simple three coins for finding three of the single bar symbols, 60 coins for finding any three of the sevens, 5 000 for getting three red seven symbols and a number of other worthy payouts too.
Though there are more than enough payouts in this game, it will doubtless be a little on the dull side for players who have gotten used to the animation and fun of video slots with more than 20 paylines. This being said, the game offers a great opportunity to lose yourself in the reels, as there is very little concentration required to play. This is not the most modern game that this developer has created and when it comes into competition with some of the newer video slots on the market, many of which feature bright and brilliant animation and a wealth of bonus features, this game probably won't be able to compete, but it does provide a pretty solid gaming experience.