Rudolphs Revenge Slot Game Review
There is a wide variety of Christmas-themed games you can play at Yebo Casino, but this gem from Real Time Gaming is one you absolutely shouldn't miss out on. Not only does the game of Rudolph's Revenge offer many opportunities to win over five reels and 50 paylines, but the theme is a quirky and funny masterpiece. In this game, Santa and Rudolph are at odds after their initial battle in the game, Santa Strikes Back. Now Rudolph is angry and though we're not quite sure why, he seems to be on a mission to give away just as many, if not more, presents than Santa ever could. Also involved in the show are the frozen elf, the bomb, the tied up elf and Santa's workshop.
This is not a game for those who wager low as the bets are fixed, meaning you won't be able to drop your wager amount. However, you'll probably be more fixated on the entertainment on your screen, and the progressive jackpot, which at last count had hit the impressive total of over R250 000. Unlike many games from RTG, this game's progressive is not randomly won, and you'll have to find Rudolph five times on the reels in order to claim that big pot of cash.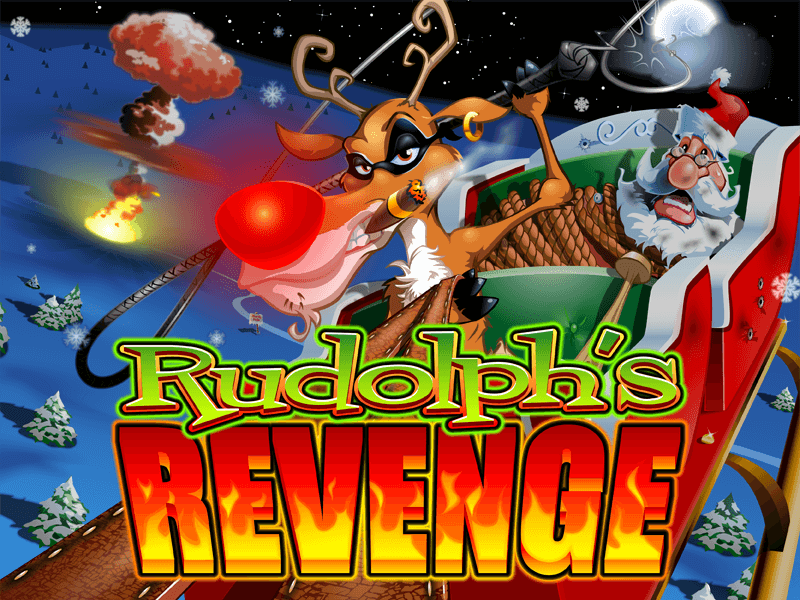 However, there are a lot of special features to keep your entertained while you're trying for the progressive. If you manage to find the scatter symbol, which is the bomb, you could get a payout of up to 20 times what you originally bet. Additionally, getting three or more of these to appear will win you seven free spins with a two times multiplier. Find four of them and you'll get free spins where the scatter transforms itself into a wild symbol. The top payout during these free spins is 5 000 coins.
If you're not too concerned with the bonus features and hoping for a fixed payout, you're in luck. Finding five of the Santa symbol will give you a decent 2 000 coins, but if you find four Santas and use Rudolph to complete the winning combo, that number will double to 4 000. And the best part is, you don't even have to be sitting and playing at your computer. You can set the game to autoplay and the machine will do all the work for you. All you'll have to do is set certain parameters and limits on the machine, and then sit back and relax as the game practically plays itself.
So is this game worth your time? Definitely. Though it is a little out of date and a sequel has already been released (be sure to find it: Rudolph's Revenge 2), this is a game that has a fantastic theme and wonderful imagery that will have you giggling. And given the game's impressive progressive jackpot and decent fixed payouts, it is one you'll want to play before Christmas, as it may pay you out enough to buy yourself a really big gift.