Return Of Rudolph Slot Game Review
Though it may not yet be Christmas time, Rudolph, the fabled red-nosed reindeer well-known for leading the pack pulling Santa's sleigh, is bringing the gift of progressive jackpots and free spins to those players who try their luck in the game, Return of the Rudolph. This 50-payline slot game with five reels has some of the best features you've come to know and love from Real Time Gaming, including wilds, scatters, a bonus game and of course, well-illustrated symbols that convey the Yuletide theme.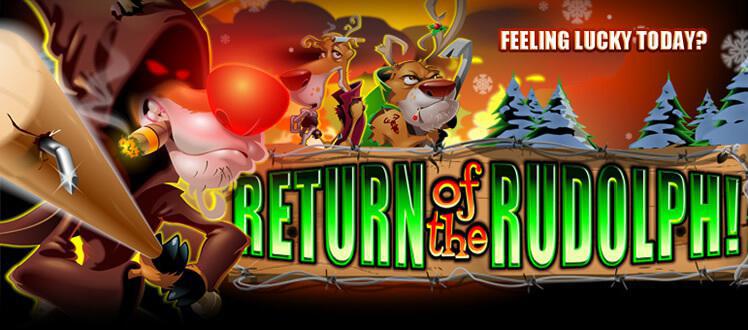 What will become apparent quickly, when you start playing at Yebo Casino, is that this is no ordinary Christmas-themed game. This is a slightly dark twist on a well-loved theme and there's nothing warm or fuzzy about it. This game has a great sense of humour and brings to life a world where Rudolph is one reindeer you wouldn't want to mess with. You'll spot a tied up Mrs Claus, torn up presents, an elf with a pickaxe and the rather scary Rudolph who holds a bat with a nail through it. If Tim Burton were to design a video slot game, this one would be it.
At the time of writing, the game's progressive jackpot had just hit about R80 000, which is more than enough incentive for anyone to play. The top fixed payouts make the game well worth playing too, and if you find five of the wilds, characterised by Rudolph, you could walk away 2 000 coins richer. The wilds in this game are stacked and they expand on the third reel, so don't be too surprised when Rudolph seems to grow. It may make him look more menacing, but at the end of the day, this will result in bigger wins for you. The Christmas criminal is the scatter symbol and if you want to multiply your wins even more, he's the one you'll want to keep an eye out for.
The game's special feature, called "Santa Strikes Back", is a fun one and though it will only initially net you seven bonus spins, it could be the beginning of a big win. If you hit this feature and wonder why it looks so familiar, this may be because it is built to work in the same way as the video slot game of the same name. In this bonus feature, you'll need to keep an eye out for the candy canes. Find a candy cane on any reel, and a star symbol will light up at the top of the reel. Every time you light up a star, you'll get more free spins and your multiplier will grow. Light up the five stars at the top of all the reels, and you could have a huge money-maker on your hands. The game also features the Rudolph's Revenge mini game where there are even more free spins to be won, not to mention the bonus game, Rudolph's Rampage. In this bonus game, you'll have to find the missing elves in Santa's Factory for a chance to multiply your wins.
This is a game that is seriously action packed and frankly, if you don't start playing it now, you will be missing out. There are loads of bonus features, brilliant illustrations and a theme that is one you will be talking about with friends for years to come. This is a seriously "do-not-miss" game.