Pirate Isle 3D Slot Game Review
Pirate Isle is one of the most recent launches from developer, Real Time Gaming, and is a fun and quirky take on pirates and treasure. This delightful game is a really fun one and guarantees you the opportunity to enjoy both the action during the game and the wins once you're done playing. Some of the symbol that add to the game's theme include the cannon, the parrot, the ship and the treasure, and these are all illustrated in a crisp and clear cartoon style that will make you smile.
The game features five reels and 25 paylines across which the symbols are spread and though you can use the autoplay feature if you want to win but simply don't have the time, you may want set aside a few hours for this game, as they'll be well worth it. For those wanting to use the autoplay feature, this is really simple and you'll be able to get about 1 000 spins going before the reels stop, with some of those progressing to turbo spins.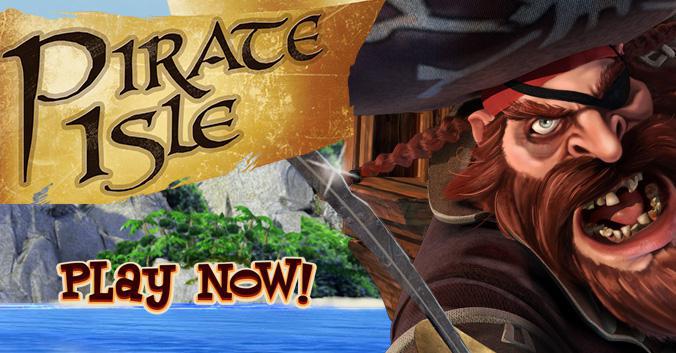 The skeleton key is the game's wild symbol and if you find it, this will help you complete winning combinations, double your wins and could give you access to the highest fixed jackpot in the entire game. The scatter symbol, which is represented by the treasure chest, is also a great one to look out for and has a bonus of 300 free spins to offer the player who manages to find enough of these symbols. This is pretty impressive, and as far as most games by this developer and others are concerned, it is practically unheard of for any player to win 300 free spins, which distinguishes this game right off the bat. Many of the free spins have added multipliers and as you may know, this could mean the chance to win a huge amount of money.
The game also offers a special feature called the "Extra Bet Broadside". In this feature, you have to activate the extra bet, which means that you will need to wager a few extra coins on every spin, but it allows you to access the progressive jackpot. When you activate this feature, you will be able to trigger the game's bonus round if you find three or more of the galleons on the reels. You'll be prompted to defeat the enemy ships and if you manage to do so, you'll move your way up the ranks to get even more cash prizes.
Most of the standard features you'd expect to find from RTG are included in this game and though the theme is anything but standard, the experience you will have is guaranteed to be enjoyable. The theme, the illustrations and the functionality all work together to create a great experience and if that's not enough, there's also a progressive jackpot that is growing day by day to be claimed. All in all, this is a game that has more than enough features to keep you interested and its quirky and fun theme will make it a quick favourite for players of all levels.
Pirate Isle Video Slot Preview
Pirate Isle is an advanced 3D animated slot machine. Join our misfit pirates in this visually stunning 3D slot game advernture.