Penguin Power Slot Game Review
With the standard five reels and just 20 paylines, you would think that the game of Penguin Power was just a standard video slot game, but the penguins have a few surprises in store for players looking for a win. Brought to you by Yebo Casino and created by Real Time Gaming, Penguin Power seems to be a pretty ordinary game with symbols such as seals, igloos and penguins taking up space on the reels, but what makes it really special is the number of opportunities to double and triple your wins, every time you play.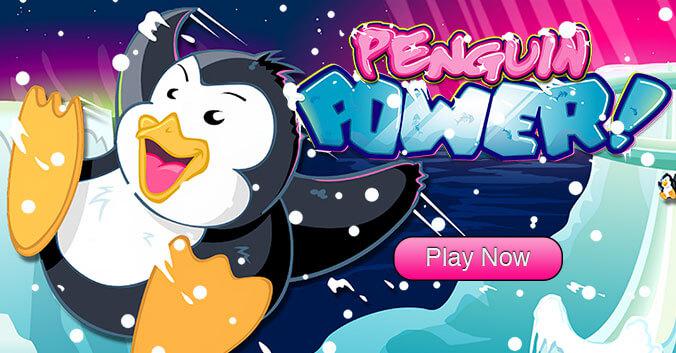 The game is a penny slot which makes it ideal for players of all skill levels, but if you bet the maximum per line, you could walk away with a lot of money. The baby penguin is the wild symbol and though it will only make an appearance on the second, third or fourth reels, it has the power to double any payouts where it acts as a substitute for symbols to complete a winning combination. The only symbol it won't substitute for is the scatter, which is the igloo, but finding this symbol could multiply your win by as many as 200 times, depending on how many you find.
The fixed payouts in the game make it well worth playing and finding four of the adult penguin symbols, with a baby penguin to complete the combo, will give you a payout of 5 000 coins. Find four of the seals as well as a baby penguin and you'll get 2 000 coins.
To unlock the game's special feature, you will need to find three or more of the scatters, and this will lead you to the penguin slide game. In this game within the game, you'll be given as many as 25 free spins with extra multipliers up to 100 times, which means you could win big on every single spin. If it's the progressive you're after, keep in mind that though it is sitting at just R30 000, this total is growing with every passing minute and as long as you keep playing, you could win, since it is a random progressive.
If you find yourself a little short on time, you can use the game's autoplay feature to set yourself up for a win. This feature is really simple to use and by setting up certain parameters, such as how much you want to spend, how much you want to win or how many spins the game should play on your behalf, you could net yourself a lot of money for very little effort.
All in all, this is a game that is about enjoyment and though it's not going to top the charts of video slot games, it provides a good experience with many chances to win. This is the kind of game players will keep coming back to time and time again because it consistently delivers chances to win and ensures you have a good time doing it too.