Ocean Oddities Slot Game Review
The name of this game probably gives away the fact that it is an underwater adventure, but until you play it, you won't know just how different it is from the many others available from Real Time Gaming. With 25 paylines spread over five reels, Ocean Oddities, brought to you by Yebo Casino, is a quirky game in which the rules and functionality may be standard, but the theme is not.
In this game, the underwater creatures have unique personalities and the fish captain, snail on a seahorse and 'No Trespassing' crab all add to a theme that is unique and colourful, to say the least. Players who are new to the video slot scene will have no problem getting their bets in on this game, since it is classified as a penny slot. However, this is a great game for video slot lovers with more experience too, and as the wagers increase, so do the potential payouts. The wild symbol, which is titled 'Rex Wild' appears on only the second, third and fourth paylines and should you manage to find it, could help you complete a winning combination for a chance to win big. The scatter symbol, which is the pearl, is also a useful one and will multiply your original wager by up to 50 times depending on the number of times it appears.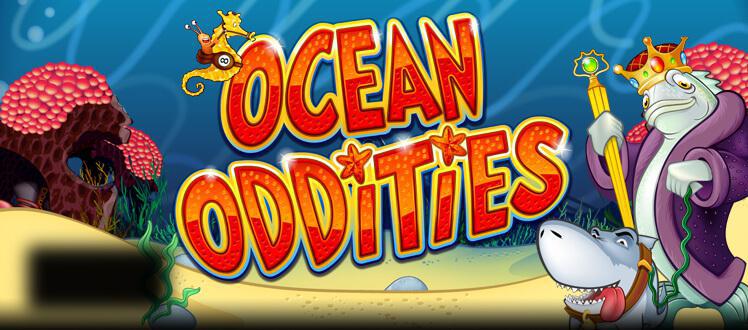 The game's top fixed payout is a pretty standard 2 500 coins, which is an amount you'll see in a lot of games by this developer, and to get your hands on that payout, you'll need to find five of the king cod symbols. However, given that the wild symbol could double that payout if you use it to complete a winning combo, you could actually net yourself a decent 5 000 coins, should the symbols align in the correct way.
One of the game's distinguishing features is its free spins functionality, which is activated when three or more of the pearls appear. In this feature, you could get up to ten free spins with multipliers to help you take home much more than you bargained for. If that is your goal, you'll also want to keep an eye on the two progressive jackpots, both of which are random and both of which offer players more than enough reasons to keep playing this game.
The game's autoplay feature is one that could be very useful to you if you find that you don't have the time to keep playing, and by simply setting up your parameters, you can let the game do all of the work for you. What may leave you a bit disappointed in this otherwise really enjoyable game is that though the opportunities to win are plentiful, there are not many bonus features and no bonus game. Then again, those players who enjoy games that are simple and uncomplicated will get a kick out of this one, since it provides more than enough entertainment with its theme, and plentiful opportunities to win big.