Naughty or Nice Online Slot Review
Whether you're naughty or nice, the video slot game, Naughty or Nice has many rewards to offer you. Developed by Real Time Gaming and available to play right now at Yebo Casino, the game features a massive 50 paylines spread over five reels. This may seem like quite a lot and it certainly is much more than RTG usually puts into their games, but remember that though you'll be betting more, it means many more opportunities for you to win. The game's theme is centred around Christmas with Santa checking his list to see which players have been naughty and which have been nice a fact that is less important than you might imagine since everyone has a fair chance of winning. Some of the symbols you'll spot include Santa, Mr Claus, mistletoe, gifts and reindeer, not to mention the face cards which are shown on tree ornaments.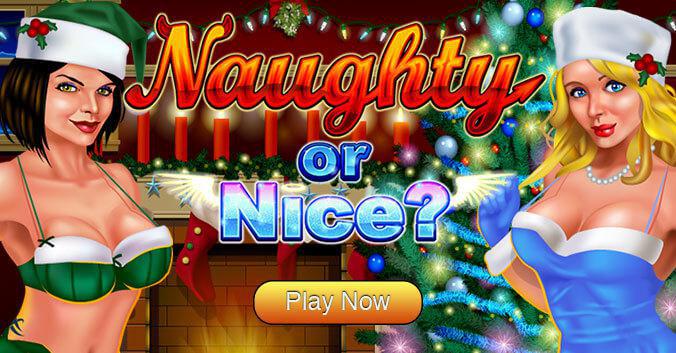 Since the game features 50 paylines, the developers had to up their game on the wild symbols, so they included two, the naughty girl and the nice girl. Both will do a little animated dance if they appear to substitute for any other symbol so that you can get a winning combination. The nice girl is a blonde, blue-eyed beauty in a cute blue teddy, while the naughty girl is a smirking, green-eyed brunette wearing green who has a tattoo in a not-so-subtle place. While they may be distracting to male players, remember that the real symbol you will want to keep an eye on is Santa, who could yield a massive 10 000 coin payout should he appear five times on an active payline. Finding Mrs Clause will also make you richer with 2 500 coins and the reindeers play a part with 1 000 coins for you to win.
The game's logo, which appears on a wreath of holly and ivy, is the scatter and will push your payout significantly higher. Find four of these, and you'll get a payout of 20 times what you initially bet. Find it five times and you'll get a ridiculously high 200 times what you initially wagered. That could be the best Christmas present you've ever received.
Finding just three of the scatters will unlock a bonus game in which you'll get ten spins totally free with the chance to choose if you want the naughty girl or the nice girl to make an appearance. Each one will help you up your winnings in her own way. However, if you really want to win big, keep your eye on the progressive which at the time of writing, was sitting at a huge R150 000. Unlike so many of RTG's games, this is not a random progressive and you'll have to find five of the nice girls in order to win it.
This is a game that makes Christmas much more appealing and if, like so many of us, you've spent loads of cash on presents for everyone expect yourself, playing this game could be the ideal gift, just for you.