The Naughty List Slot Review
No matter what time of the year it is, it seems that Christmas is always in season and, if you want to add little excitement to your life, you should try The Naughty List. This Yuletide-themed game launched in late 2014, making it one of Real Time Gaming's newest offerings. Of course, as players have come to expect at Yebo Casino, the latest games are always on offer. With five reels and 50 paylines for players to choose from, this video slot game offers a progressive jackpot and a ho-ho-whole lot of enjoyment from the first wager to the last.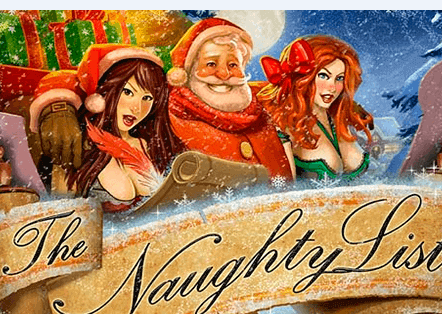 The Naughty List Online Slot
Giving Christmas a more adult-themed twist, The Naughty List features themed symbols including alluring ladies in barely-there outfits, rambling reindeers, the North Pole and of course, Santa Claus himself. The game is packed with unique features that make it exciting to play, including the offer of not just one progressive jackpot, but two, both of which are totally random. This means that if you keep playing, you'll have twice as many chances to win as you would on almost any other game.
In this game, the maximum win amount is 3 000 times your bet, which is good news if you're a high-rolling slots player. Even for those players who only bet the minimum, the chances of winning are heightened by the wild and scatter symbols. Santa Claus is the wild symbol in this game and if you find him, he could help you complete a winning combination that is generous to say the least.
As for the scatters, these are represented by the game's logo. When three game logos appear anywhere on the screen, you will get access to a great bonus game. This bonus game loads in front of the visual of the machine, and asks players who access it to select a number of gift boxes. Hidden inside the gift boxes are prizes including a cash reward and multipliers that could take you from a small win to a substantial one.
There is yet another twist that most players won't expect to see in this game, namely, a second bonus round. This second bonus round takes all of the multipliers you have won in the first round, and applies them to a number of free spins, which obviously raises the payout even further if you win. Sounds good right? The chances to win in this game are plentiful making it a great choice for players who are hoping to make the gaming experience last.
In terms of the graphics and sound, the game is a relatively new one, which means that the visuals and audio are pretty up to date. Of course, given that the illustrated style so popular to the developer is used, there is nothing realistic about the game but those who like a game that has an adult-theme will really love playing this one. As for those who love winning, this game gives you plenty of opportunities to do it, while having a really good time too.