Mystery Bonus Poker : Play Mystery Bonus Poker for real money
One of the most exciting games you can play at Yebo Casino, Mystery Bonus Poker deals out bonuses the way other games deal out cards. Created by Realtime Gaming, this is a game that pays out more if you happen to hit on specific card combinations that will appear courtesy of the game's spinning wheel. When a new hand begins, the wheel spins and when it stops, you'll be shown the hand you need to get if you want to claim the mystery bonus. While you can play the game as you would any other type of video poker game, you'll have the chance to claim more money.
The game's winning combos are quite standard and for those players who've played the other variants of video poker, this game will be quite straightforward. The biggest payout of 4 000 coins is the one to aim for but you'll only be able to claim it should you get a natural royal flush. Once the cards are dealt the first time, you'll see immediately if you have gotten this combo but if not, there are other payouts to be claimed too. The straight flush for example will give you a 200-coin reward should you manage to line up the cards and if the mystery bonus wheel lands on this combination, that amount could be doubled.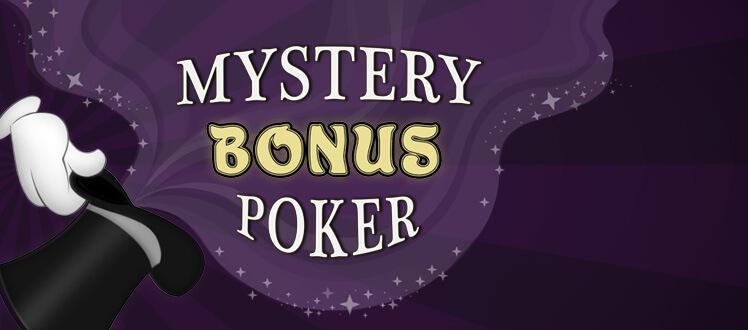 Even the smaller value combinations have a lot of value in this game and getting jacks or better could give you five coins, an amount that could be doubled courtesy of the mystery bonus wheel. Two pairs will see you winning ten coins and three-of-a-kind will give you 15 coins. However, the higher hands are the ones you should be aiming for and this means employing a little strategy to sway luck in your direction.
There are three strategies that experts in the game say you should use if you want to better your chances of winning. The first is to play your hand as normal rather than trying to chase the mystery bonus. This is because the cards you are dealt may not correspond to the mystery bonus that comes up, so trying to chase that bonus will only result in a failed hand.
Next, ensure you always hold onto three or more cards that could net you a winning hand or a bonus hand. In simple terms, this means keeping any cards that, with the addition of two other cards, could result in either a royal flush or the combination selected by the mystery wheel. Finally, a strategy that should be employed in all video poker games, the experts say that you should always play the hand using the maximum number of coins. This may seem a little risky, especially given that your chances of winning big are not always good, but should you manage to get the cards to line up, playing five coins will net you a significantly bigger win than playing with just one or two.
Mystery Bonus Poker is a lot of fun and you'll enjoy it if you like to play standard video poker games but want a little extra twist.