MORULA SUN CASINO AN EXCELLENT CASINO BASED IN THE NORTH WEST PROVINCE
Owned by Sun International, the Morula Sun is one of the best places to visit and stay in the entire North West Province. Well known and respected for its great shows, conference facilities and excellent casino, the Morula Sun also provides you with luxurious accommodation and is in the perfect position both for long stays and for overnight visits. Besides the great casino, that caters to all types of players, there is also a wonderful range of dining establishments to try, bars to enjoy a few drinks at and all manner of entertainment facilities for the kids too.
Using the Smart Card system, players at the casino can play a whole range of games including slots, table games, video poker and specialty games too. Open 24/7, the casino operates both a smoking and a non-smoking lounge to cater for guests of all types and there are more than 500 different types of slots to try. The 8 tables also provide entertainment for those looking for a refined experience and the regular promotions, the tournaments and the lucky draws mean that any visitor can be a winner at any time.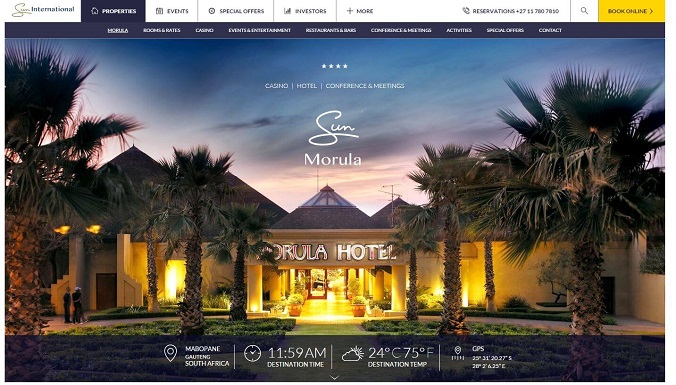 When great dining is on the cards, Morula Sun really rises to the challenge by providing an extensive range of places to eat. For those who are looking for live entertainment as well as a great meal, the Lethabong Tavern is ideally located to provide it. Some of the live acts you're likely to see when you visit include comedy shows, singalongs, musicians and bands and much more. As for those who just want a quick snack such as a burger or pizza, the food court can assist, as can the 24 hour Letsatisi Bar, which serves some of the best drinks you're likely to find in the entire area.
Accommodation options abound for those who want to stay over and you'll find that the 3-star hotel has more than enough rooms to help out those who need to stay just one night, or more. There are 73 of these rooms in the hotel, all well decorated and all luxurious with a view of the nearby dam. The pools in the resort are perfect for those who want to bronze a little and spend time outdoors in a safe environment, while the tennis courts provide the ideal sports stop before heading out to a night on the town. Don't forget the spa and salon either, both of which can assist those guests who want to relax and beautify.
The conference facilities the hotel has to offer are quite impressive too and there are five large meeting rooms which allow those who visit to get their business done in record time. Should you wish to book accommodation with a conference, it is wise to speak to the reception desk about the current availability and rates. This will ensure you book your place before this popular venue is filled up. And for those just coming to relax, the Morula Sun Casino is a great choice.