VISIT MONTE CASINO THE MOST ENJOYABLE CASINO IN JOHANNESBURG
Fourways is the home of Monte Casino and though it is neither as old nor established as some of the casinos in the city of Johannesburg, it is certainly one of the most enjoyable to visit. Not only does the complex offer casino games, a hotel, multiple places to eat and relax, but there are extensive children's activities too, making it the perfect place to bring the family. Built in the year 2000 to resemble an old Italian village, the complex may seem a little 'authentic' but it is pure modern artistry in terms of what it can offer.
Owned by the Tsogo Sun group, the casino takes up a vast expanse of space and players will find there is no shortage of tables, video poker machines, slot machines and specialty games for them to enjoy. A non-smoking floor and two smoking floors provide ideal spaces in which to relax and enjoy, while those with a little more to spend can make their choice of either the smoking prive lounge or the non-smoking prive lounge. The slot games are all potential cash cows and even those who bet just a cent on the machines they love stand in line to sin huge amounts. The progressives are certainly worth playing and winners are made at the casino daily.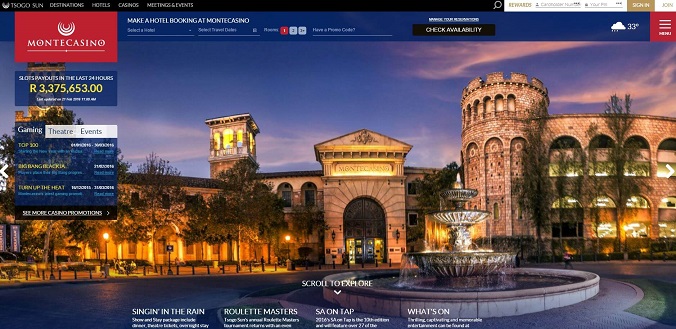 In terms of the table games, Monte Casino is not short on these either and those who want to can sit down for a few hands of blackjack, try a few spins of the roulette wheel, give Let It Ride a try or see if their cards lead to a great win in the game of baccarat. The casino also offers regular promotional events in which cars, cash and holidays are given away with a heavy hand, and those who are lucky enough to hit the jackpot never forget their experience.
For those ready to grab a bite, Monte Casino also offers brilliant variety in the form of meat grills, Indian food, Chinese and much more. All of the restaurants, coffee shops and bars push hard to meet the brilliant standards of the complex, and that means those who visit them will never be disappointed. There are also places for friends to meet over a cocktail, kids to play games and a food court for those who want to catch a quick bite on the go. The arcade and entertainment area is a do-not-miss for both kids and adults who will enjoy the advanced gaming technology.
As far as accommodation goes, Montecasino's two hotels offer enough variety to suit any taste and budget. The Sun Square is ideal for those on a holiday or a business trip while the luxurious Palazzo Hotel is the ideal place for a weekend away for two or a family looking to be treated like royalty. Those who visit the area surrounding the casino will also find no end of shops, malls, organic markets and much more, not to mention animal parks and open air markets, making the casino the hub of an exciting experience for all.