Mice Dice Slot Game Review
Mice Dice may be a game with a tiny name, but the winnings it offers players are pretty big. This Real Time Gaming video slot has five reels and 25 paylines, and is brought to you by Yebo Casino as part of the RTG Real Series of games. The theme is very cat and mouse, and we don't mean that metaphorically. In fact, the first thing you'll notice when you start playing is that the game is set inside a 'catsino' where every domestic animal has a part to play. From the kitty casino player to the wind-up car, the symbols are well illustrated and really endearing, making this a game you will want to play, and keep playing, for as long as you have the money to wager on it.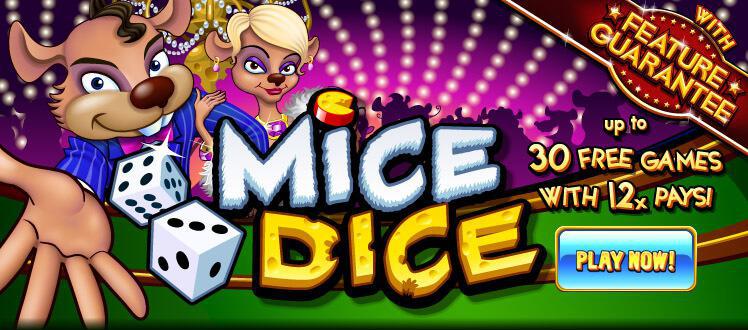 Bets on this game start very low; making it an ideal game for beginners, but even the high rollers will have the chance to flash a little cash, especially considering that the game takes a side bet, which is compulsory if you want to access the game's special feature. The side bet comprises ten times the line bet, but if you want to add a new dimension to your play, this is the way to do it.
The fixed payouts are quite decent; however, you may notice that they are not quite as high as some of the other games made by RTG. The top fixed jackpot is sitting at 2 500 coins if you are able to line up five of the dice symbols, while getting five croupiers will get you 1 500 coins and five kitty casino players will give 1 000 coins. The catsino is the scatter, and should you find it three or more times, you could be multiplying your bet by a ridiculous 250 times, which certainly makes the game worth playing.
When it comes to special features, this is a game that doesn't shy away. If you find two or more of the wilds, which are the dice symbols, you'll trigger free spins and depending on how many of them appear they'll all be rolled to figure out just how many free spin you get. The game even has a feature guarantee to ensure that if you don't manually trigger the special feature, you can still get there eventually. Additionally, the game's instant trigger will alert you to how your chances are of activating the feature guarantee. This is something you won't see on many other slots, and quite a clever way of keeping you keen.
What you'll really love about this game though, as well as all of the great features mentioned here, are the progressive jackpots, of which there are two. The minor jackpot is currently sitting at about R5 000, which is not bad, but the major progressive, which was last seen at R30 000 is the one you're going to want to aim for. These are totally random though, so you'll need to start playing to stand a chance of winning them.