Mermaid Queen Slot Game Review
A relatively new game from Real Time Gaming, Mermaid Queen was released at about the same time as another nautically themed game, Pirate Isle. Both of these new offerings give players the chance to win big and enjoy some impressive design and development, the kind you'll find any time you play at Yebo Casino. This game is set in an underwater world with a fantasy theme that is carried through in symbols such as the mermaid, the merman, the ship, necklaces made of pearls and many more. What is so unique about this game is that the illustration style is really subtle. If you have ever noticed the many games that use over the top illustrations, this one will strike you as different because of the clear attention to detail and the subtle colours used.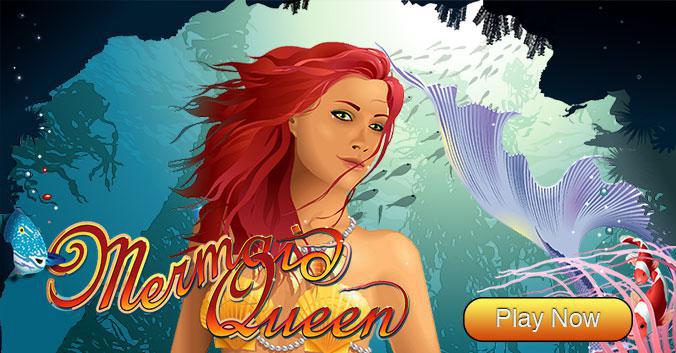 The game allows you to bet very little or a lot, depending on the type of mood you're in, and set yourself up to win jackpots of over R200 000. If that thought appeals to you, stop reading and start playing! Of course, if you're more interested in the finer details of this game, you will probably want to know what other potential wins could be on the cards. We've already revealed the massive progressive jackpot which is random and can be won by anyone at any time, but you should know that there are a few decent fixed jackpots to be won too.
The game's wild symbol is the mermaid queen who has the power to appear on reels 1, 3 and five in order to substitute for any symbol and grant you a winning combination. Scatters can be activated by the clam symbol which could help you boost your payout if you find two or more of these. The game also offers a free spins feature. Find the mermaid queen anywhere on the reels and she'll offer you ten free spins with a generous multiplier of two times your payout. Find the clam and you'll add an extra free spin to that total. Retriggering free spins will up your multiplier to three times.
The Mermaid Queen has an impressive top fixed jackpot of 7 500 coins but that's only if you manage to get five of the mermaid queen symbols to appear. Find five of the ship symbols and you'll get a decent 2 500 coin payout. Though many slot games don't give you much control over where the reels will stop, this game has a skill stop element which allows you to hit the stop button at any time to get the symbols you want to appear. Of course, you'll have to have a pretty sharp eye to get that right.
This is a game you really shouldn't miss out on, and if you're a slots fan, your repertoire won't be complete without this game as a part of it. The subtle imagery and the subtle sounds, the big payouts and the massive random progressive jackpot all make this a game that is 'not to be missed'.
Mermaid Queen Slot Video Preview
Mermaid Queen is now available cross platform including mobile phones, tablets, MAC and PC devices.