Megasaur Progressive Jackpot Slot
Based on the popularity of dinosaurs, Real Time Gaming Megasaur video slot has everything you'd hope to find in a slot game based in the Jurassic era. While this is certainly not the only game with the same theme you'll find at Yebo Casino, this game offers some pretty impressive prizes as well as a very detailed cache of symbols, including the red and green dinosaurs, the orange triceratops, and the volcano amongst others. With five reels and the typical 25 paylines you'd expect from RTG, this is a game that takes dinosaurs to the next level.
One of the unique parts of this game is the betting. You can only choose one of three types of wagers; a relatively small one, a medium one and a large one. While this does give you less choice, it makes the game easier for those who are not sure how they want to bet, but the rewards make the game impressive. The green dinosaur is the wild and will substitute for any symbol to form a winning combination, except for the volcano and the red dinosaur. If you find the red dinosaur, which will only appear on the fourth reel, you'll get it to substitute for all others, again, excepting the volcano. If the red dinosaur helps you complete a winning combo, you'll get your wins doubled.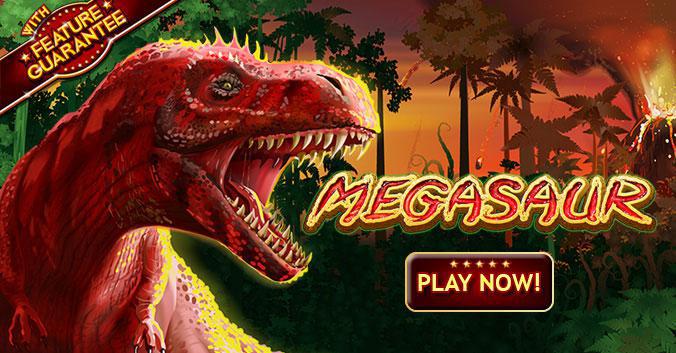 The game offers a free spins mode if you are lucky and find three of the volcanos, which are the scatter symbols. You can get as many as ten free spins up to a maximum of 50 and ever spins is a new opportunity to win a lot of money. One of the game's unique features is a feature guarantee. This is something that RTG has obviously thought through, considering that not every spin can be a win. With this feature, you'll be able to activate the bonus game once you've spun the reels 250 times, that is, if you don't manage to activate it manually.
The game has an awesome progressive jackpot to be won and though at the time of writing this, the amount was huge (a whopping almost R10 million), it is a possibility that someone has won it already. Of course you won't know if you don't play. If you want to win the progressive, you will need to try and get five of the volcano symbols to appear, though even if you don't hit on the symbols you want, there are some decent fixed jackpots to be won too.
All in all, this game makes for a really great experience. It has almost everything you would want to find in a video slot game, including a clever theme, great illustrations and sound effects, a massive jackpot and a bonus feature. The only thing that could add to this would be a random progressive, because as most experienced players know, it's not easy to get the symbols to line up the way you want them too. However, the game provides more than enough excitement to keep you spinning the reels time after time.