Loose Caboose Slot Game Review
Five reels, 25 paylines, one enjoyable game; Loose Caboose created by Real Time Gaming and brought to you by Yebo Casino is a video slot game with a Wild West theme, and while you may be asking yourself, why is this game different to any other Wild West game, the answer is a simple one. In this game, the theme may be similar to many of the other games released by RTG, but the winnings are bigger and better. Some of the symbols you'll find include the purse, the tickets, the train's caboose, the gentile lady and the train's conductor to name a few. Tens, jacks, queens, kings and aces also fill the reels, but rather than using cards, RTG has ensured that these are illustrated to fit the theme, which is a pleasant surprise.
The game's betting options range from very low to medium and this makes the game a good one for players of most experience levels, though it probably won't be the first choice for high rollers. However, rewards are anything but low. For anyone who finds five of the engineer symbols, there's an impressive 5 000 coin top payout to be claimed and as he is the wild symbol, he will also double the payouts for completing any winning combinations with other symbols.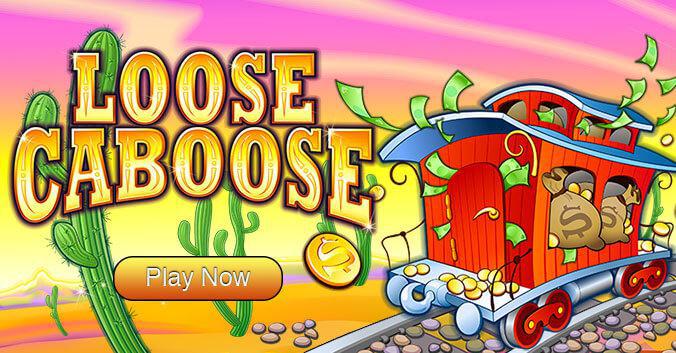 The loose caboose is the scatter and should you find it, you could get a payout of 200 times your wager. Of course, for this to happen, you'll have to find it five times in a row. Then again, if you only manage to find three, you'll still get to access the Cash Train feature. In this feature, a train will run along the top row revealing free games, bonuses and multipliers as it goes, which means lots of wins for you. Additionally, if you re-trigger this feature, you could get five additional free spins.
The game's progressive is currently sitting at over R100 000 and if that's not enough motivation to get you over to Yebo Casino to start playing, keep this in mind too: the progressive is random and could be won by anyone at any time. That means that if you don't start playing now, it could be someone else who claims it. If you need to, you can even set the game to autoplay mode and let it do the work on your behalf. That way, you can win even if it's not you that is physically playing.
If you're planning to spend a little time trying out games you haven't played before, make sure that Loose Caboose is on that list. The illustration style, though simplistic, does add to the theme which will make you feel as though you've entered the days of the old West. The game's functionality is of the very high standard you would expect from RTG and the jackpots to be won are pretty good too. For an all-encompassing experience, this is a game that will warm your heart and could make you a big winner.