Jumping Beans Video Slot Game Review
Ola muchachos! Want to spark a winning streak and have loads of fun doing it? Then you need to play Jumping Beans, the quirky and enjoyable video slot with three reels, five lines and more than one way to win at Yebo Casino. Some of the symbols you're encounter when you play the game are the bean man, the cactus, the maracas and the tortillas, all of which could make you a winner. This game melds the ideas of Mexican culture and Mexican food together to form a pretty fun, quirky experience for players of all levels, though this game is probably more suited to beginners than experienced players.
The symbols you will want to look out for in this game include the little bean man, who is the wild and the little bean lady, who is the scatter. Perhaps one of the best parts of playing this game is the auto nudge feature, a special tool used by the machine which nudges symbols back onto the screen once an initial win has been calculated. That means your chances of winning are increased without the need for you to bet more. This would be a really impressive feature if the jackpots were larger.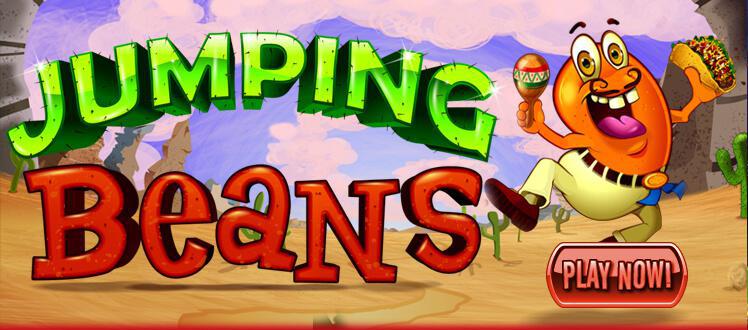 The one downfall of this game, created by Real Time Gaming, is that the jackpots are not very high. If, like most players you're out to have fun while winning big, you'll only be able to get one of those when you play this game. The wins are quite small with a fixed jackpot of just 200 coins, but if you find the wild, you could double that amount. While this will still earn you a decent sum of cash if you make the maximum wager, you could probably get a lot more cash from other RTG slot games. However, there are other features that make the game worth playing, such as the up to ten free spins you'll get when you find three of the bean lady symbols.
Jumping Beans also features two progressive jackpots that you could win at any time, as they're totally random. The minor jackpot starts at just over a R1 000 while the major jackpot starts at R10 000. While this is not the big sum you may be used to potentially willing when you play other slots games, it is a respectable amount and there probably isn't a player alive who would turn it away.
So is this a game worth playing? If you're the type of player just getting started with video slots, or you like to keep your bets exceptionally small, this game would suit your perfectly. If you just want to have fun on a quirky slot with a silly theme, this game will be right up your alley. However, if you're looking for big rewards, this game really isn't for you. The amount of fun you have will be huge but the amount you will win, even if you hit the progressive jackpots is not very big at all.