JACKPOT PINATAS VIDEO SLOT GAME REVIEW
Even if you've never seen a movie set in Mexico on TV, you've probably heard at some point in your life about piñatas. These are usually papier mâché dogs, cows or donkeys that are completely hollow inside and filled with sweets. Someone will get a bat and after giving the piñata a good whack, all of the sweets will fall out. In the case of Jackpot Piñatas, the big prize is a lot of money and rather than hitting the machine with a bat, you'll have to hit it with your bet to get the money to come rushing out.
This 20-payline game from Real Time Gaming has five reels all of which include symbols that create quite a festive theme. Of course, festivities are nothing new to Yebo Casino and there's a lot of fun to be had on this particular machine. With symbols include the bull piñata, the dog piñata, the lime wedge, the sombrero and the maracas, you'll probably think you're in the heart of Mexico itself.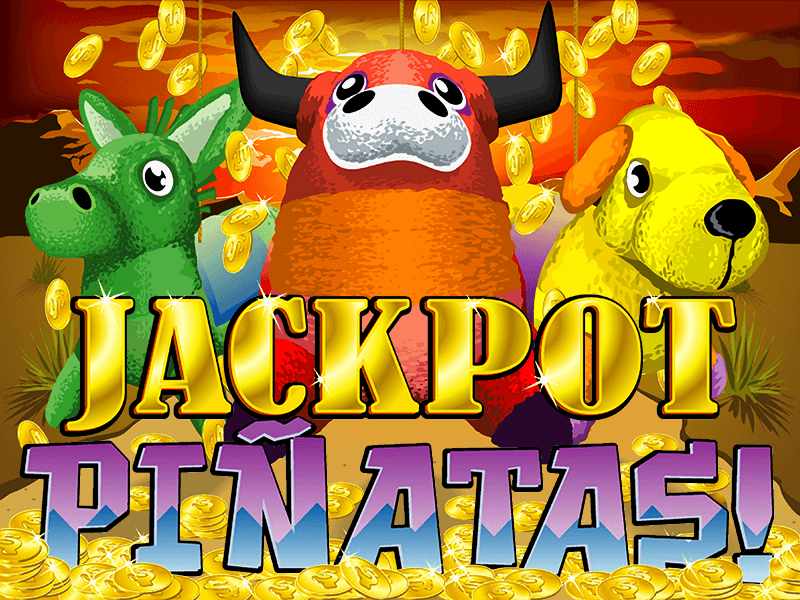 If you want to get the top fixed jackpots in this game, you will need to pay all 20 lines but the bets are relatively small, so this shouldn't be a problem. The symbol you'll need to find to help you get to that win is the bull piñata. Get him to appear five times on a certain payline and you could claim the progressive jackpot which is currently sitting at over R5-million (but if you don't hurry and play the game, it could already be gone!). The other jackpot that will make the worth playing includes the 20 000 coins for finding five donkey piñatas (which is raised to 40 000 coins during the free spins, by the way).
If you happen to find three or more of the dog piñata symbols anywhere on the reels, you'll be directed to the bonus game in which you'll have to choose which two of the three piñatas to hit. Choose the right ones and you could get up to 200 times your initial bet or up to 25 free spins with a double multiplier. That's a massive win if you've made the maximum wager.
Want to play but have other things to do? Why not set the game to autoplay? All you have to do is set the parameters of how many spins you'd like played on your behalf or how much money you want to spend and you can go off and get things done while the slot spins its way to a win on your behalf.
If you like money (and let's be honest, who doesn't?) this is a game that should make the top of list. It has some of the largest jackpots to offer players and the progressive is potentially life-changing. If you're ready to strike it lucky and enjoy a little bit of Mexican culture at the same time, this is the game for you. Start playing today and by tomorrow, you could be a big winner.