It's A Mystery Video Slot Game Review
It's a Mystery is a murder-mystery themed video slot game that comprises five reels as well as 25 paylines and while it's theme may lead you to believe that there is something hidden that needs to be discovered, it certainly isn't whether this game is worth playing or not. With symbols such as the question mark, the butler, the chalk outline and the mansion, this game created by Real Time Gaming really sets the scene for what could be a dramatic mystery that needs to be solved, but don't bet on being the person who solves it. While you may walk away a big winner at Yebo Casino, the chances of finding out 'whodunit' are pretty slim.
The game features a pretty generous top payout which is fixed at 7 500 coins. If you want to get this payout, you will have to find five of the question mark symbols on any payline. As the question mark is also the wild symbol, you will want to keep an eye out for it anyway. If you're lucky enough to find the rich gentleman symbol, he'll reward you with 2 500 coins, while his lady companion has a jackpot of 1 250 coins to share. As for the butler, even he is hiding a little pocket of cash, set at 1000 coins.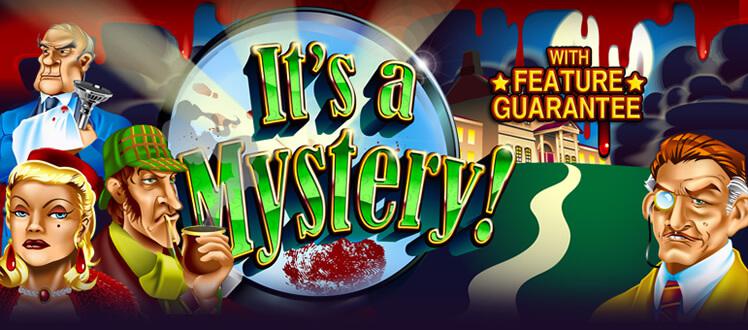 This video slot's bonus round works in a slightly different way than you may be used to. While more traditional video slot games will unlock the bonus game only after you manage to line up certain symbols on a payline, this game uses a feature guarantee measuring tool. This tool will display the number of spins you have remaining until the bonus game is unlocked and once you've finally gotten to zero, it will reset itself to 150 spins. But, that's not the only way to unlock the bonus game. You can also unlock it in the more traditional way, that is, by finding the scatter symbols.
The game's logo is the scatter symbol and should by it five times on a payline, you could be taking home a hefty sum of 200 times your wager. Find three of the symbol and you'll head straight over to the bonus game. In the bonus, you will be provided with a nine-piece puzzle that you will have to put together. Put the right piece in the right place and that piece will lock in, making the puzzle a little easier on you. What do you win for taking part? Well you could net yourself up to 50 free spins with a six times multiplier.
If you're not big on mysteries, here's one we've solved for you: the game features not only one, but two jackpots and both of these are progressive. The minor jackpot, currently sitting at almost R5 000 (at the time of writing) is a drop in the bucket compared to the impressive major jackpot which is sitting at almost R100 000. Of course, if you don't start playing, someone else might snatch it up. The progressives are totally random and you could win at any time so if you like a bit of anticipation while you play, this is the game for you.