Hillbillies Cashola Slot Game Review
One of the games recently released by Yebo Online Casino, Hillbillies Cashola is a video slot game that has a lot to offer players but your initial feeling may be that it doesn't seem to quite measure up to some of the other games you'll find at Yebo Casino. Though it's an ideal choice for beginners who have never played video slots and want to make small bets, this game is a little too simplistic in its illustration style, though its theme is quite a creative one. It is also a 3D slot which means that animation comes standard and you feel almost as though the illustrations are coming to life, an idea that would have been better executed with more detailed illustrations.
With five reels and the traditional 20 paylines you'd find on just about video slot, this game offers most of the features that are standard including a bonus game, free spins and a progressive. So what can you expect to find in terms of the theme? The game is based on the idea of hillbillies, or folks from a country-based, poorer background suddenly striking it rich. The symbols include the dog, the young girl, the old man with no teeth, pigs, wooden houses and moonshine (which is a kind of home-made alcohol, in case you didn't know). It's certainly not an easy theme to follow if, like most South Africans, you don't know much about country folk from America. That notwithstanding though, there's a fairly decent sum of cash to be won when you play.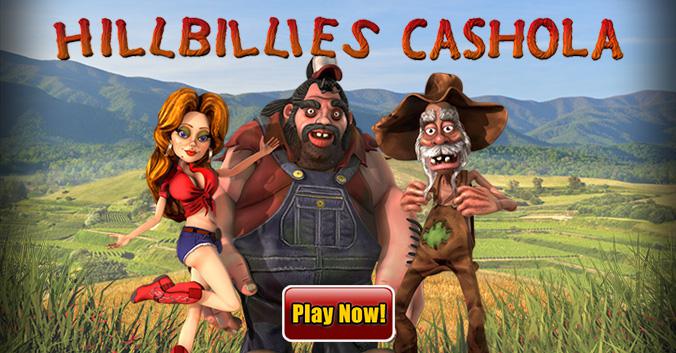 The game's highest payouts are complements of the toothless man, the woman and the tough guy who, if they appear the right number of times, could net you up to 5 000 coins, which is not bad given that a lot of other games give a lot less. The bonus round also offers opportunity to get up to eight free spins and two times multipliers as well as retriggering the free spins should any of the hillbillies make an appearance on the reels.
The hillbillies are the scatters that offer you the chance to boost your win by up to 20 times, while the game's progressive, a random one of course, is pretty decent. Of course, you will have to make the maximum wager in order to stand the chance to win the progressive, but no matter what symbols appear on which reels, it could yours at virtually any time.
Is this a game worth playing? Well, the sounds of the banjo in the background may put you off a little, but this game is one that is worth your time. It does take a little bit of getting used to and if you usually play on the slots offering flashing lights and loads of animation, this game might not impress you as much. This is probably due to the theme though, more than anything else, and if you just can't seem to understand why anyone would choose to live in the country, drink moonshine on the porch with their dog and strum a banjo, your bet may be better put to use elsewhere.
Hillbillies Cashola Video Slot Preview
Hillbillies Cashola is a 5-reel, 25-payline video slot machine available at Yebo Casino.