GRAND WEST CASINO – SUN INTERNATIONAL GROUP
Just 11km from the airport in Cape Town, Grand West Casino is part of the Sun International group of casinos and promises anyone who takes the chance to grace its doors a really great time. With almost every kind of amenity you could imagine from a casino and movie theatre to an ice skating rink, this really is the place to be when you're looking for fun for the whole family. Additionally, those who want to spend time with just the one they love, or even alone, will be able to do it in the majesty of a really spectacularly designed casino that takes the best of the Victorian age into the modern day.
The casino itself offers those who visit it choices galore and from the tables to the slots, and the video poker machines, there is something available to excite every type of player. The casino promises a ridiculous 2 500 slot machines which has to be one of the highest amounts in the entire country and the variety is simply staggering too. There are classic three-reel machines, video slots with up to 100 paylines and progressive slots that make every spin a potential win. And as for those who want to keep their bets low, there are machines that cost a mere R0.05 to play on and those that will set you back R100 a spin.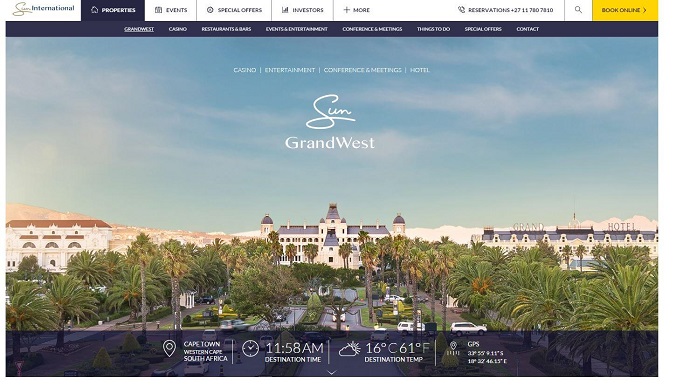 The tables are plentiful too and there are over 70 for you to choose from. These include every type of game from Punto Banco to poker, blackjack to baccarat and roulette is a game you should really try too. With smoking rooms and non-smoking rooms to cater to all types of players, the casino also offers VIPs the luxury of a private salon in which they can play in total comfort and luxury. Both low and high bets can be made which means that you can go all in for that big win or keep a little cash back until you're sure the cards, or the wheel, will give you the result you want.
There are a myriad of bars and eateries throughout the casino too and all kinds of tastes can be catered for. As for those who just want to get a few drinks before the gaming ensues, the bars can cater to that while those hoping to catch a game while they enjoy a burger will not be disappointed. For a quick meal on the go or a luxurious dinner out, Grand West Casino is the ideal visitors' destination.
The complex offers two premium hotels at which all guests can be hosted, the Grand Hotel, which is the most luxurious, and the City Lodge, which has a homey feel to it but all of the modern conveniences you could possibly need to enjoy your getaway. Both offer friendly and helpful staff who can assist with all queries including getting the transport you need to and from Grand West Casino and there are more than enough other entertainment options to keep couples, families and single visitors busy for both short and long periods of time.