Golden Lotus Slot Review
There are many games out there that are themed around Chinese culture and this one is no exception. Golden Lotus is a 25 payline game with five reels in which the theme is a Chinese garden. If you've never visited China, or have never been to a traditional Chinese house, you would be forgiven for having no idea what kinds of items you would find in a garden that was traditionally Chinese, which is probably why the creators of the game at Real Time Gaming took a little bit of a free reign when it came to creating the symbols. You'll find a few things that will give you a Chinese feel, such as the vase, the lantern and the two lotuses, one golden and one white, and some things that are not Chinese at all, such as the ace, king and queen cards, and the geisha. Geishas are Japanese, not Chinese.
All of the cultural inaccuracies aside though, Golden Lotus has quite a lot going on for it, include that it is well designed and offers a wide betting range, accommodating almost every type of player. Two of the features that make it more user friendly include the stop reel feature, which is a button you can push to stop the reels in their tracks, rather than waiting for them to come to a stop on their own, and the autoplay feature which lets you walk away while the reels spin according to your pre-programmed parameters.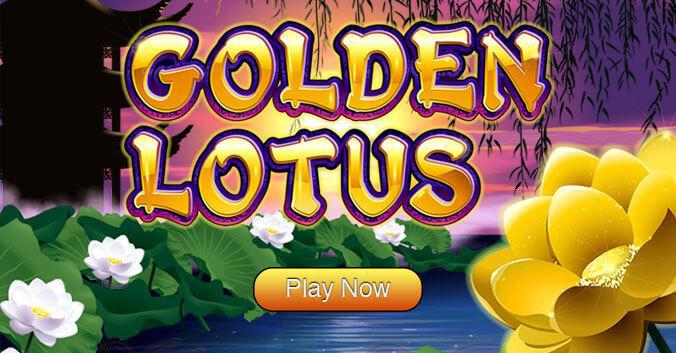 In this game, you'll need to hit on certain symbols to win and these include the game's logo and the gold lotus. Find five of these (you won't be able to mix and match; they must be five of the same symbol), and you're in for an 8 888 coin jackpot. In case you weren't aware, the number eight is a lucky one in Chinese culture. Find the five of the geisha symbol and you'll get 1 250 coins. Another symbol to keep your eye on is the white lotus. Sure, the game is called Golden Lotus, but it actually the white variation of this flower that holds a huge amount of power. It is the scatter and finding three or more of these will not only multiply your bet, but will also give you free spins.
Now here's something fun that the game offers: the Chinese Garden mini game. In this game, which you can unlock by finding three or more of the golden lotuses, you will have to pick four of the eight golden flowers that show up. Depending on which ones you pick, you could win up to 100 times your original bet up to 20 spins, totally free. Also, any white lotuses that appear during your free spins will transform themselves into golden lotuses, and that means you could get more winning combinations.
The game offers two progressive jackpots, including a major and a minor, which have decent money to give away. They're totally random, so there's not need to worry about symbols if you've got your eyes on these prizes. The minor is currently at roughly R3 500 and the major is sitting at about R27 000, but they're growing with every passing minute, so start playing today and claim your share.