Goldbeard Slot Review
The notorious pirates, Blackbeard and Bluebeard, are said to have brought nothing but misery to the characters in the stories they come from. Goldbeard, the lead character in an exciting video slot game from Yebo Casino, is exactly the opposite and should you choose to play this slot game, the pirate captain could bring you a lot of happiness and potentially, a lot of money too. This delightful, quirky, pirate-themed game is set somewhere in the Caribbean, as depicted in the background, where beaches and oceans abound. The symbols used in the game add to the theme in a quirky way, and besides the cards that act as fillers, you'll also see parrots, cannons, gold coins, pirate ships and of course, Captain Goldbeard.
The game offers 20 paylines separated over five reels, which makes it relatively simple and straightforward in terms of functionality. Real Time Gaming seems to have created this game specifically for those players who are new to video slots or who prefer to keep things uncomplicated when they play. This does not mean that the game is boring or that it has no special features though. In fact, it is thoroughly enjoyable and has a few nice features, such as free spins, wild payouts and a progressive jackpot.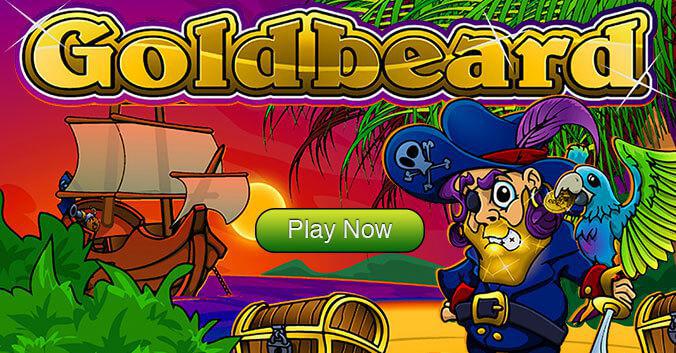 Captain Goldbeard is the wild symbol and when he appears to complete any winning combination, will double what you have won. Note though that he only appears on the first and fifth reel so don't expect to see him complete a combo in the centre. The gold coins are scatters and hitting on three or more of them on a payline could multiply your wager by a hundred times. The bonus features in this game are not quite as plentiful as those in other games by RTG, which is why the types of players who enjoy Goldbeard are those who are focused on getting their hands on the jackpots. The random jackpot is progressive and offers players a handsome sum, when it sits at its maximum amount. There are also other jackpots to be won, all of which are detailed in the paytables.
The cartoon style of the graphics in this game makes it seem a lot more complicated than it actually is. However, when you play it for the first time, you'll notice that it is one of the simplest video slot games out there. It is ideal for beginners who are just getting started with video slots, as it is user-friendly and intuitive. As for the music, this adds to the pirate feel and gives you the sense that you could hit gold at any moment when the reels stop spinning.
The game has all of the features you would expect from an RTG game, including an autoplay feature, betting increments that are relatively small and a reels that spin to a stop one by one. If this game was an ice cream flavour, it would be vanilla not the most daring or adventurous but a tried and tested player favourite.