Goblins Treasure Slot Game
The goblin's treasure has been hidden away and it's up to you to find it, but there is only one way of doing that. You'll have to adventure to Yebo Casino and play the Real Time Gaming video slot, Goblin's Treasure. In this fantastical game, there are 25 paylines over five reels that hide the goblin's goodies and depending on your bet, you could be the lucky player to win a share of the cash value of those goods. But the game doesn't make it too easy on you and you'll have to find the right combination of mushrooms, a spell book, the scary goblin and other symbols such as the helmet, gold, diamonds and more to get the cash. Most of the symbols are animated, which makes the game quite a fun one, and have their own unique sound effects too.
In terms of betting options, this is a game for small and large wagers, so it is suitable for just about everyone. Your goal in this game is to find symbols such as the goblin and the treasure chest, both of which are wilds and will help you complete winning combinations and start stockpiling your own treasure. It is certainly unusual for a game to have two wild symbols, but this is great for anyone who plays it since your chances of winning go up with every spin. The goblin wild only appears on the first reel though, while the treasure chest will only make an appearance on reel five.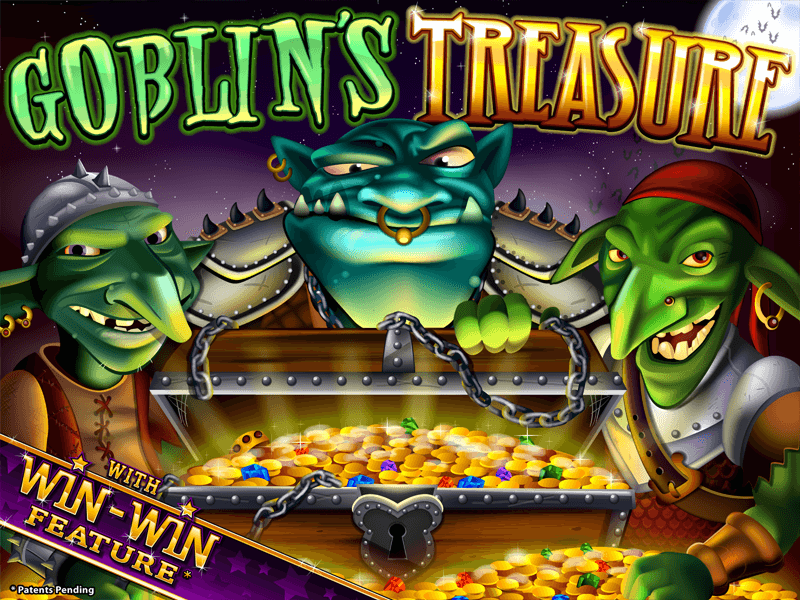 The scatter symbol is the goblin's castle and if you're hoping for multipliers to boost your payouts, this is the one to keep an eye on. Finding two, three, four or even five of these will multiply your win by as much 200 times your bet, but that's about the symbol can do. If you want to unlock the bonus game, you're going to come up short with Goblin's Treasure because there isn't one, but if you look out for the treasure chest, you could get you up to 15 free spins with a multiplier that will boost your payout by up to five times.
Since there's no bonus game, you'll probably want to keep an eye on the payouts and in this case, there are two jackpots, both progressive that you can win randomly every time you play. The minor random progressive is currently sitting at just under R10 000, while the major is just spilling over the R15 000 mark. It goes without saying that the more you play, the more you'll win. But hang on, if you don't really have the time to play, there is still a way for you to win without having to be there in person. Just set up the game's autoplay feature to do all the work on your behalf, give it some time to hunt down the treasure chests, and come back to a potential win. There's no guarantee of a win, but who knows? If luck is on your side, it could happen.