VISIT GARDEN ROUTE CASINO THE MOST BEAUTIFUL LANDSCAPES IN SOUTH AFRICA
The Garden Route has to be one of the most beautiful landscapes in the entire nation and thus is the perfect place for the Garden Route Casino to host visitors from all over the world. With the Garden Court hotel just a few steps from it, it is able to offer guests a place to relax in comfort and with its casino offers visitors a great number of options when they are looking to place a few bets. Owned by the Tsogo Sun group, the casino and entertainment hub is home to a number of wonderful restaurants, bars and other eateries and has an entertainment centre all set up for those families who are bringing their kids with them. So fun for adults and fun for kids; who wouldn't want to visit?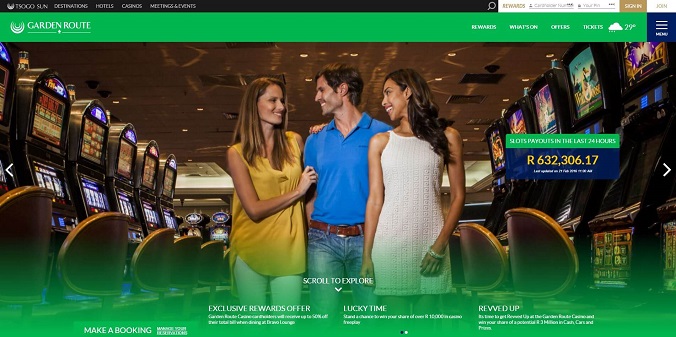 The casino is a large one and has about 400 video and classic slot machines, all of which provide players with non-stop entertainment and certainly allow for enough opportunities to win. The most unique machine on the floor has to be the R8 which is a combination roulette and slot machine, at which eight players can play at the same time. It really has to be played at to be believes. As for the tables, there are 16, all of which promise players a rather unique experience, whether they want to play blackjack, roulette, poker or any of the other games offered. And VIPs won't be left behind, since the Salon Prive section allows them to bet at their convenience while being treated to a life of luxury.
When the hunger pangs start to bite, players, family members and anyone else spending time at the casino can head over to the Red Cherry Café for a quick bite, or to the Bravo Lounge which offers every kind of meal you could imagine, from steak to salad, sandwiches to soup and more. There are a number of other food options too, all of which cater to those with unique palates looking for a taste that will satisfy their cravings.
The sleeping options are more than sufficient too, and those who visit the Garden Court Hotel, Mossel Bay, will be able to book a room to suit their needs easily and with minimal hassle. There are 42 rooms that guests can book, all en suite, as well as a spa, a dining room and even conference facilities for those who are having a working holiday. Also close to the casino is the Pinnacle Point Beach & Gold Resort, which offers accommodation and the chance to hit a few balls, should the need take you.
The Garden Route Casino is an ideal place for people of all ages and from all over the world to visit and if you want to escape the humdrum of daily life and relax, rejuvenate and have a lot of fun, this is a great place to do it in. Book your next vacation, conference or weekend stay at Garden Route Casino and see how much fun you can have while your every need is catered to.