PLAY FUNKY MONKEY ONLINE SLOT FOR FREE AT YEBO CASINO
What more entertaining name could there be for a video slot game than Funky Monkey? The folks at Real Time Gaming have probably figured out how much people love rhymes and they created a game, which you can play at Yebo Casino, that takes the idea of a musical monkey and plays on it. A 20-payline game with five reels, Funky Monkey plays on the idea of a musical ape with symbols such as the cymbals, a banana guitar, bongo drums and a gold record in a frame. The game also makes use of filler symbols such as the ace, king and queen amongst others to ensure that it is not way too easy for players to win. That being said, the chances of a win are still pretty high.
The game's wagering limits range from high to low which makes it ideal for all players. Technically classified as a "penny slot", the game offers numerous opportunities to win, especially if you're one of the lucky people to get the Funky Monkey himself to appear. He is the wild symbol and though he only appears on reels one, three and five, he has the power to complete all of your winning combinations and could increase your payout too. The fixed top jackpot is not a huge one, coming in at just 2 000 coins but it is pretty respectable since the risk involved in wagering is quite low too. Find the five bongo drums and you'll get 1 500 coins, or find the Jeep or gold record symbols for a chance to get 1 000 coins.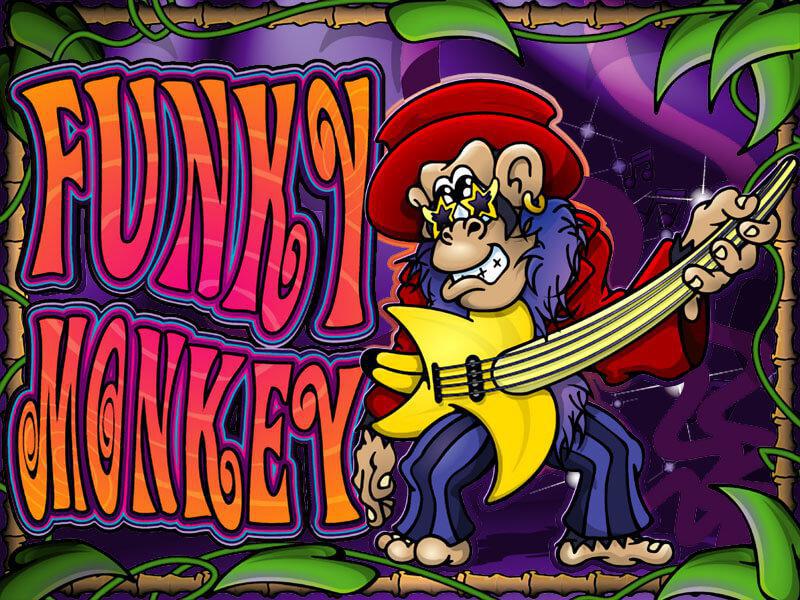 Though the traditional symbols may not yield huge payouts, the guitar shaped like a banana is one you'll want to keep your sights on. This is the scatter and finding three of these symbols could increase your payout significantly, even up to one hundred times your original bet. Additionally, you can unlock the bonus game if find the separate "funky" and "monkey" symbols. Get them to line up and you'll be taken to the Funky Monkey bonus game where you'll have to select one of three monkeys to play a song. Depending on how the audience likes your choice, you could end up winning as many as 25 free spins with a multiplier of up to 10 times.
Currently sitting at over R100,000, the progressive jackpot provides you with another great reason to give this game a try. It is totally random, so you won't have to worry about which symbols appear on what reel and should you keep playing, you will statistically increase your chances of being the luck player who wins it. In fact, you don't even have to be playing to win. You can configure the game to play for you (autoplay), which means while the game does all the work, you could be collecting all the winnings.
All in all, this game is not going to set any new online casino standards, but it is a relatively enjoyable one with a fun theme and a lot of opportunities to win, no matter how high or low you bet.