Field Of Green Online Slot : play Field Of Green for real money
Like a large portion of our slot junkies, if you are in the market for a simple 20-payline, five-reel video slot game, this is one you should really consider. Brought to you by the team at Yebo Casino, Field of Green has been developed by the experts at Real Time Gaming, and features a theme that is American football related. Set on the big screen of an American football ground, you'll find symbols such as beer, foam fingers, cheerleaders and all of the other accoutrement that you would think comes with a game like this one. If you're a fan of the TV series, Friday Night Lights, this is the game for you. You'll also find a few symbols that are not football themed, such as the Ace, king, queen, jack, nine and ten playing cards, but these are really just gap fillers.
The wild symbol you'll want to look for in this game is the trophy, which will substitute for symbol to give you a winning combo, except when the scatter symbol appears on the same line. Should you use for a winning combo, you'll also get a two times multiplier to make the game really worth your while. Note though that finding the wild all by itself on this Field of Green won't net you any winnings.
Fixed and random progressives are the goals in this game and if you're hoping for the former, you need to try and find the big and burly football player. When five of these guys appear on a line, you'll win 4 000 coins and of course, find four of these and a wild and your payout will double. You can also get a decent payout of 1 000 coins for finding five helmet symbols or you can win up to 500 game coins if you hit the whistle five times on the same payline. As for the random progressive, this is pretty much exactly what it sounds like. As long as you keep playing, your chances of collecting the progressive cash get higher and higher.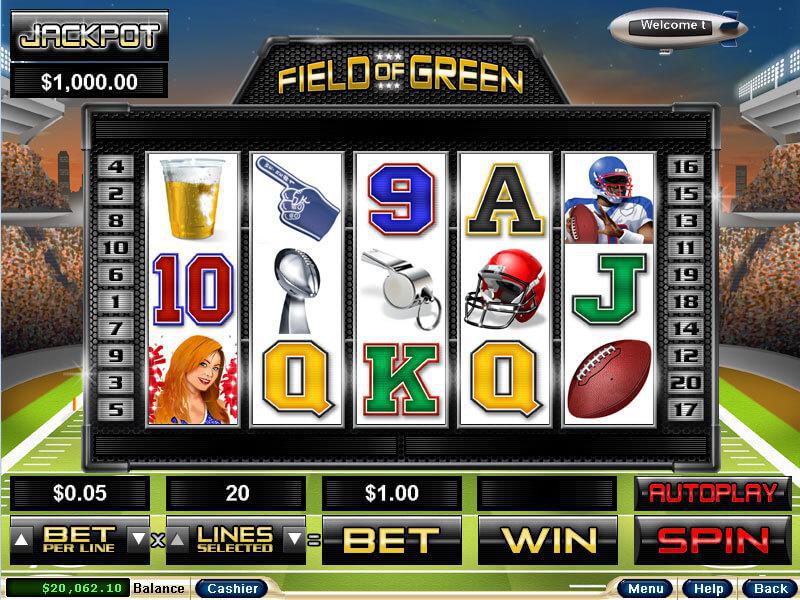 Field of Green has a special feature that you will want to monitor too. The football, or scatter symbol, could open up a bonus game for you if it appears three or more times on the reels. The bonus game is, not surprisingly, a chance to kick a field goal (which is our version of a 'try' in rugby) and win free spins and multipliers up to 100 X your base bet depending on how many of these goals you get.
Given that South Africans are not huge American football fans, you may find that while it's entertaining enough, you prefer to watch the rugby. The great thing is that this game lets you do both. You can set the game functionality to autoplay with certain parameters including how many spins the game should allow or how much it should wager, and then you can watch the rugby or find the latest rugby news online and come back to a big win.
This is a game that is entertaining and though the graphics could never be compared to what Disney or Pixar have done lately, this game has enough modern polish to keep anyone playing it entertained for hours.