Euro Slot Poker : play Euro Slot Poker for real money
A game with the name of European Slot Poker has to be an interesting one, if only because the combination of slots and video poker are a sight to behold. Created to look like a video poker game but with the types of symbols you'd find when you play the slots, rather than a deck of cards, this is a game that at first glance seems a little beyond the scope of any player. However, Realtime Gaming really knows how to keep players happy and this game does that so well. Play it a few times at Yebo Casino and you'll see just what we mean.
Before you place a bet, you'll need to 'add credits' to the machine. Even though you're playing the game at an online casino, the game operates in a way that is similar to the video poker or slot machines from many years ago when players had to put in coins. This blast from the past does allow you to cash out any coins you don't use though, so don't be shy. Add a whole lot of coins to ensure you have enough cash to play with. What you'll notice when you change the denominations though, is that the higher your denomination is, the less credits you'll have for the same amount of money. This is the same way in which most modern video slot games work and while betting high has a number of benefits in payout terms, spending the same amount of real world money won't take you very far if your coin denomination is set high.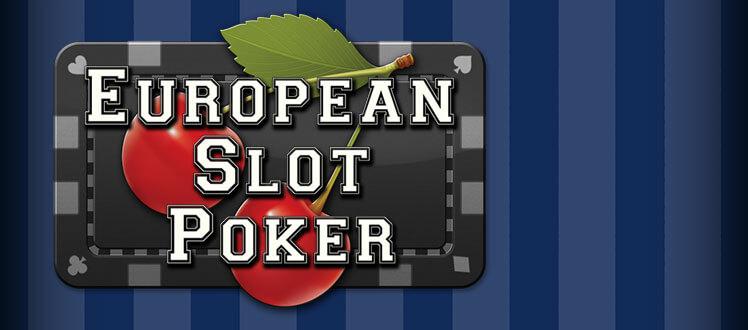 In all ways other than the symbols being used rather than cards, the game is exactly the same as standard video poker. The symbols are dealt, after which you'll indicate which you want to hold onto and which you want to swap. Then, new symbols will be dealt to you and you'll receive a payout based on the types of symbols you have. You will need to check the paytable quite carefully when you first start playing, just to ensure you know which symbols are the big payers and which are not worth much at all.
Two symbol types you should keep an eye on though are the joker and the fruit symbols. The joker acts as a wild and even if it doesn't appear to complete any type of winning combination, it will still pay you out. The other symbols to watch out for are the fruits, which trigger bonus games should they appear. These include the cherries and watermelons amongst others and the bonuses are dependent on which symbols, and how many of them, appear.
Overall, European Slot Poker is an interesting game that allows you the chance to train your brain in a new way especially if you have played other video poker variants in the past. However, this does not mean it is a difficult one to play. It is quite easy and has a lot to offer players, but it does take a little getting used to given that symbols are used rather than cards.