Eternal Love Slot : Play Eternal Love Slot for real money
A high volatility slot, Eternal Love is the latest game to be introduced into the market by the established and well known games developer, Realtime Gaming. With a modern look and feel and intricate illustration, the game features 243 potential ways to win and is an all ways pay game, something that is rather unusual in the modern day slot market. Another thing that is rather unusual about the game is its similarity to a novel released a few years ago, in which the love of a human, a vampire and a werewolf is the central theme. Of course, this game doesn't tell quite the same story, but the overall idea is pretty much the same.
The game's symbol is the wild icon and this is groups, but will only appear on the second and fourth reels. For every one of these symbols that appear, players will be able to see their payouts multiply by up to three times as long as the symbol forms part of a winning combination. The other symbol you'll want to keep your eye on is the scatter, which is a coin. Able to appear on any of the reels, the scatter is another way to multiply what you've won but in the case of this slot, up to 200 times.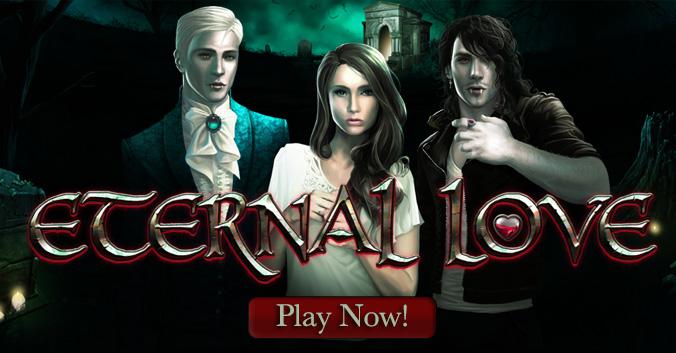 And of course, an RTG slot wouldn't be an RTG slot without the free games. When three of the scatters (or more) appear on the reels, players can claim up to 10 free spins. Sounds pretty ordinary right? Well, not really, because RTG has put a rather interesting twist on the idea of free spins. The game makes use of an extra feature called the Life Force Meter. This meter holds a certain value (it's a mystery you won't find out what it is until the free spins are done) and when your free spins are over that value is revealed. Now, here's where it gets quite entertaining. If the winnings you've made from the free spins don't equal the same or more than that mystery value, the Extended Life feature will kick in and you'll get more free spins, allowing you to keep winning until you hit that value.
For a game that has the opportunity to make both low and high wagers (as low as 30 cents and as high as R300), as well as being packed with special features, free spins and all of the other slot goodies we love, it is difficult to find anything bad about it. This new slot from RTG is a real masterpiece and while the theme may seem more than familiar, the slot itself is a real job well done.
Of course, in the modern world, mobility is very important and RTG has not forgotten this detail. The game will be available for the downloadable casino, the instant play casino as well as for mobile, so for those players who think they won't have time to try out this new game, think again, because it's one you can take with you, wherever you go.
Eternal Love Slot Video Preview
Eternal Love is a 5-reel, 20-payline slot game, check out our new video preview below: