VISIT EMPERORS PALACE CASINO THE PALACE OF DREAMS
Well known in Gauteng as one of the best places to go when you want an all-round entertainment experience, Emperor's Palace is well loved both by locals and by tourists. In fact, those who have had the chance to visit it agree that this hotel and casino complex is one of the finest and most thrilling in the entire country and has more to offer than most of its peers. Owned by the Peermont Group, the casino and hotel offer something for everyone from young children to those in their prime. And if you love concerts, gaming and eating at amazing restaurants, this casino can offer it all.
The casino is quite special in itself, as has been created to resemble its namesake, literally the palace of an Emperor. With Roman arches that tower above the visitors to murals and other wonderfully Roman-themed decorations. The casino creates a complete five-star experience for those who love to play. And play they shall with the more than 1500 slot machines that the casino has to offer. Add to that the 67 gaming tables, and you have more than enough variety to keep you enthralled from the moment you step in until the moment you step out. There is certainly something to suit every type of budget too with machines that accept bets as low at a cent to those that allow you bet R500 for every spin.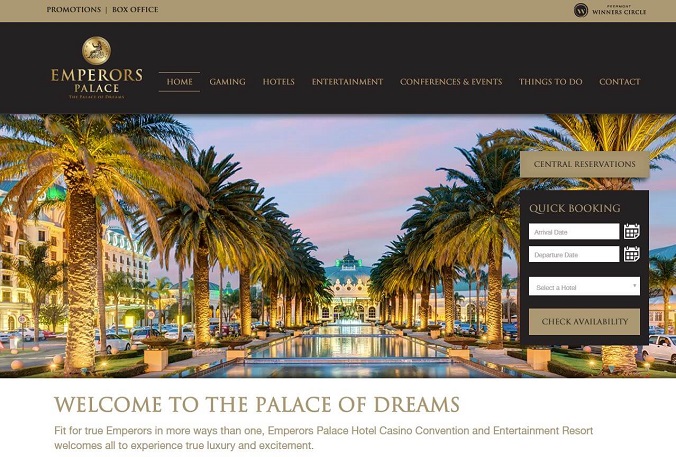 Those who want a more premium experience can have it too with the VIP lounge in which those who like the exclusive life will have their every taste catered to. Players can also take advantage of the smoking and non-smoking lounges, both of which have great games on offer. The Smart Card system ensures that there is no need to walk around with cash or buckets of coins, another way the casino makes playing amazing for its visitors. The mystery jackpots are something to keep an eye out for too and will reward players at random just for enjoying the games they love anyway.
And once your stomach starts to rumble, you'll find that there's an eatery in the casino that can cater to your taste. From the traditional African food to the Chinese, Indian and many other types, there really is something for everyone. Kids can be catered to too, so for those who want to bring the whole family, this is a hub that allows you to do it. There are also bars, cafes and clubs, which means you'll never be short on something to do and something to eat when you visit Emperor's Palace.
Finally, for those looking for a place to rest their weary heads, the casino also offers four hotels to choose from, each with its own benefits. The D'Oreale Grand is a five-star hotel where those who want to live in the lap of luxury for a few days and nights will be made to feel like royalty. Additionally, the Peermont Metcourt Suites, Metcourt and Peermont Mondiore provide ample options for you to find a place to rest and unwind after a long day spent eating, gaming and enjoying.