EMERALD RESORT & CASINO
Heading down south from Johannesburg, many a traveller has come across the Emerald Resort & Casino. Not only is this conferencing, gaming and relaxation venue the real jewel of the Vaal, but it also offers something for every person of every age. The kids can enjoy the animal world, the Aquadome and a number of other facilities, while grown-ups can visit the sports bar, dine at the many restaurants, relax at the African Spa or even try their luck on the extensive casino floor. Who could ask for more all in one amazing package? Add to that the premium accommodation and conferencing facilities, and you have something that beyond incredible.
The casino is one of the leading gaming hubs in the entire country and with both smoking and non-smoking rooms, both of which are packed with games, has something to offer everyone. The classic and video slot machines are aplenty with those that take as little as just a cent to those that go up to R50, ensuring that both new and more experienced players are catered for. Don't forget those progressives either. As for the table games, there are 27 on the floor, which means you can skip from roulette to blackjack to progressive jackpot poker in just a few steps. This kind of gaming convenience is all neatly packaged in the beautifully designed casino, but what really sparkles has to be the Prive Lounge, a members-only section in Gold and Diamond cardholders can enjoy VIP treatment and private gaming to their hearts' content.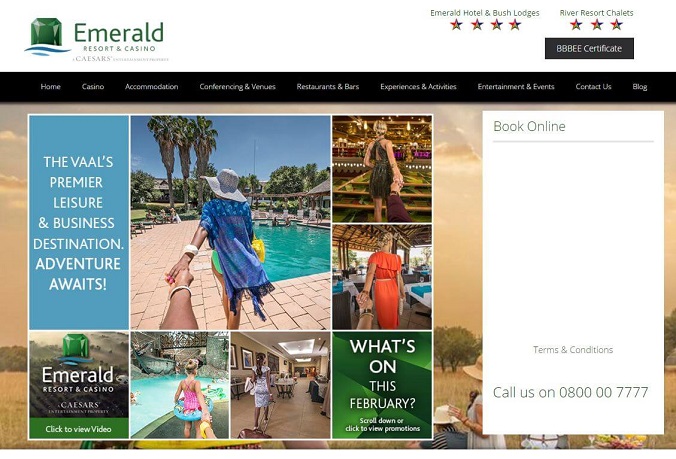 When it comes to the food, Emerald is not short on options. The many takeaway food hubs ensure that if you're just looking to have a bite, you can do it quickly and easily but without compromising on quality. Additionally, the Sports Bar offers quick food but for those who want to catch the rugby at the same time. And if you love fine dining, be sure to check out the hotel restaurant or Breeze, both of which offer a la carte that stands head and shoulders above the rest in terms of quality and presentation.
Kids are also taken care of at this casino complex and the animal world, bowling, computer and game rooms and many other facilities allow you to ensure your kids are kept just as entertained as you are. If you are planning on bringing the whole family, why not make a few nights of it with four-star accommodation that is luxurious, spacious and that makes your getaway just perfect? The hotel is just one option, as are the lodges which are semi-self catered, and the 100 freestanding units which are fully self-catering. Also available in close proximity are river tours, conference facilities, golfing and a wealth of other activities that will round off your stay perfectly.
Choose Emerald Resort & Casino and you are choosing a self-inclusive world that is beyond any experience you are likely to have again in your whole life, or will ever want to for that matter.