PLAY AT CAROUSEL CASINO A THRILLING AND EXCITING CASINO
Carousel Casino in the North West Province has been around for almost 30 years and in that time, has become on the premium places to visit when driving north of Gauteng. 60km from Pretoria, Carousel Casino is a thrilling and exciting entertainment centre in which those with all kinds of tastes can be catered for. Love sports? No problem because Carousel Casino offers sports bars and other locations in which you can catch the rugby, watch the soccer or even check out the latest in professional golfing. As for those who enjoy haute cuisine, the casino also offers more than enough venues to have your cravings satisfied and there is food from all the corners of the world. Best of all, for those who have kids, there's entertainment galore with no need to drive far.
The casino floor is one of the most thrilling places to spend a little cash and win a lot of it. Using Smart Cards rather than cash, the casino is also one of the safest, so there is no need to worry about those who may be eyeing your stack of bills when you win. And win you will when you play on any of the over 700 slots or 20 table games available. Worried about spending too much? Worry no more because Carousel Casino offers many machines starting at just R0.02 and table games that won't eat into your budget either.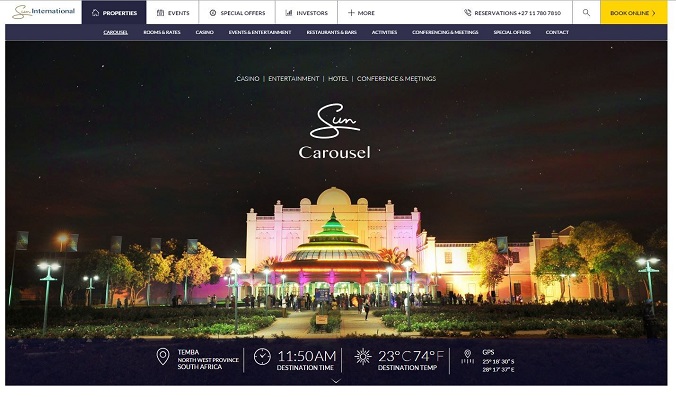 Besides the slots, the table games are quite magical and no matter which type of game you prefer to play (and may all of them) you can try your hand at roulette, poker, blackjack, baccarat and many more. It is recommended that players try the Poker Magic games or head over to the Crystal Club for a VIP experience, if they have a little more to spend. This exclusive part of the casino, for gold and platinum MVG cardholders, is an ideal place to be pampered with games that go above and beyond the norm.
And once the gaming is done for the day, how about a relaxing stint in the Players Restaurant or at Giovanni's, both of which offer excellent gourmet cuisine without the high costs usually attached to it? And for those really craving a steak, there's a Squire's Loft that make succulent meat you'll be dreaming about for days. There are also attractions in the area for the kids, and plenty of accommodation, including the four-star hotel that has 57 rooms, a pool and some of the best views in the area. Those who need assistance with car hire or travel can also get the assistance of hotel staff who will be happy to make arrangements for them.
Let your next vacation, weekend getaway or day out be at Carousel Casino and find out why this jewel of the North West is so well thought of. Though it may not be the largest casino in the country, it is one of the finest and will go to great lengths to assist you in making your stay memorable for all of the right reasons.