Bulls & Bears Slot Reviews
Though its name may lead you to believe that the game of Bulls and Bears is about livestock or even animal fighting, the only war that occurs in this 25 payline slot is on the stock market floor. With five reels and a side bet feature, which is a compulsory part of the game by the way, this game is all about making money, both on the stock exchange and from your wager. Real Tie Gaming have done a great job on this one as far as fun is concerned, and when you play it at Yebo Casino, you're going to see a lot of money-related symbols besides the obvious bull symbol and bear symbol. The financial chart is one you'll want to keep an eye on, as are the gold and the cash symbols.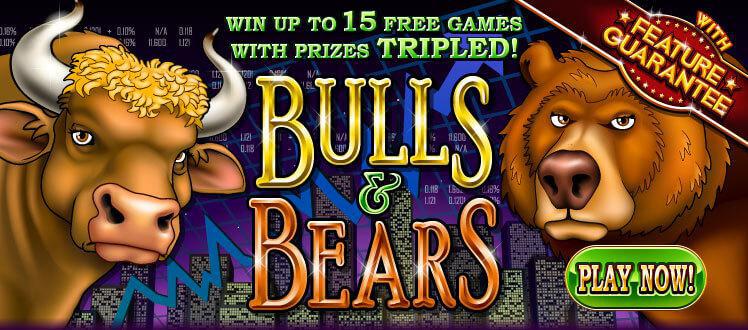 Jackpots in this game however, don't depend on what the stock market is doing, but rather on your bet and a little luck. There's a generous 10 000 jackpot for the player who manages to find three banker symbols with two wilds to complete a winning combo, but with the game's free spins feature, this could be pumped up to a generous 30 000 coins. There's also 4 000 coins to be won if you find five of the floor trader symbols
So what's the deal with the side bet? Well, this is really an extra chance for you to win. Basically, when you start playing, the game will take two wagers from you. One is the normal bet and one is 40% of that amount, which is the side bet. The side bet is an extra chance for you to win if you have the right symbols, but you should note that this won't be displayed in your actual wager status at the top of the machine. Don't worry if this starts getting a little confusing though, because this game does all of the tough thinking for you.
The game has two wild symbols, the bull and the bear and though the former only appears on the second reel and the latter only appears on the fourth reel, finding even one of them will give you impressive multipliers that send your payout total soaring. The scatter symbol will also give you more chances to get a great payout by unlocking a free spins feature.
If you're not really one for fixed jackpots, you'll be glad to hear that this game offers not just one, but two, random progressives. You can hot on these jackpots at any time as long as you keep playing and you won't need to find a certain combination or make a certain type of bet.
All in all, this is a really fun game with good graphics and an engaging theme. It offers players more than enough opportunities to win and though the side bet feature may lead to a little confusion at first, you'll probably find that like investing in the stock market, this game offers you quite a rush.