Builder Beaver Slot Review
In the world of Yebo Casino, the game of Builder Beaver is a unique one because of its theme. Developed by one of the best in the online casino industry, Real Time Gaming, and offering 25 paylines over five reels, the game does not compromise on quality or on player experience. Builder Beaver has two progressive jackpots to offer players, one major and one minor, as well as numerous bonus features that players can hit on if they are lucky. This game is an ideal one for beginners or players who like to keep their bets low, and with the chance to hit on the wild symbol and win free spins, it is one that will keep you entertained for hours.
The game features, you guessed it, the beaver, one of Mother Nature's hardest working animals. The theme is carried through into the symbols used, the background and even the music, with a world created around a fictional business, the Beaver Logging Company. In the game, the beavers own this company and help the player find bonuses and winning combinations while they search for wood and other building supplies to use to build houses and other structures. This game's cute theme is carried through its symbols, with a variety of different beavers, houses and more making up some of the symbols you are likely to see.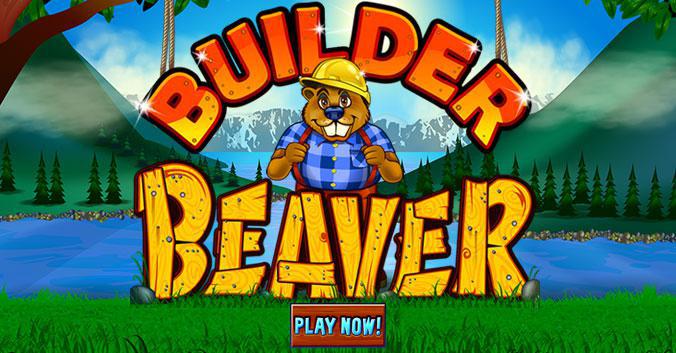 The beaver symbol in this game is the wild and should you hit on it, will complete any winning combination. The signpost symbol is a scatter and if you manage to get three or more of these to appear on a payline, you'll be rewarded with ten free spins. Additionally, any signpost symbols you hit on during your free spins will transform into beavers to help you get those winning combinations. Taking it one step further, any winning combinations during free spins will yield a double payout. That's quite a lot of reward for very little wagering.
The beaver is also the top paying symbol in this game, and for those lucky enough to line up five beavers in a row, there is a tidy sum of 10 000 coins to be won. Five pie beavers are also pretty lucky and will net you a 5 000 coin payout if you hit on them. For those players who manage to line up five house symbols, there is also a small but decent sum to be won of 3 000 coins. The progressive in this game are completely random, which means that just for playing, you could net yourself not just one, but two rather impressive rewards. This is a feature that is starting to become standard in many of the games offered by RTG, and with good reason. Players don't have to bet high to stand a chance to win a lot of money.
Though the game is not really ground-breaking in either its design or functionality, it is an enjoyable way to pass the time and it is certainly worth trying to unlock the bonus game. With a number of different ways to win, this game is worth trying if you are a slots lover.