Bonus Poker Deluxe Video Poker
Realtime Gaming and Yebo Online casino are certainly known for the quality of its games and when it comes to enjoyment, Bonus Poker Deluxe delivers in a big way. The game allows players to collect wins whether their hand is low or high and with payouts that begin with the small hand of just a pair or jacks, those who give it a try will find that they have a lot of return for very little investment when they play at Yebo Casino
What makes this game slightly different to the many other video poker variants currently available for play is that the payouts are quite high though the wager amounts need only be very small. The 'deluxe' part of the game's name comes in when players get four-of-a-kind. This type of bonus delivers in a big way and players will find that rather than the standard 125-coin payout they would get if they had four kings in many of the other video poker machines, this one will pay out a spectacular 375 coins, three times what the other machines pay.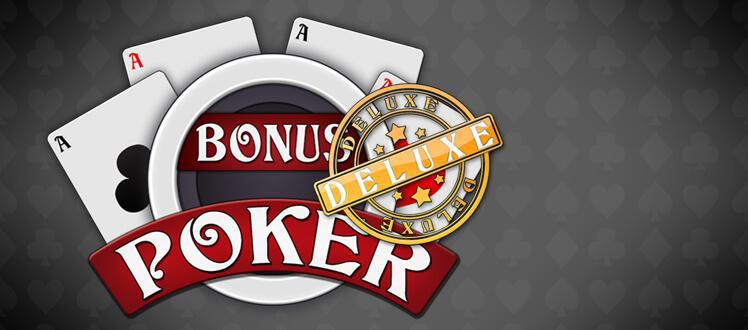 Additionally, the twos in the game are wild so any deuces that appear could be key to helping players get a winning combination. Should any twos appear in your first hand, be sure to hang on to them. Once the first hand is dealt, you'll get the chance to pick the cards you want to hang onto and those you want to discard. The cards you chose to discard will be replaced and the machine will pay you out for a winning hand. Should you win, you'll also have the chance to get more money in the double or nothing game. Five cards will be dealt and the first of these will face upwards. You'll need to pick one of the other four and should you pick a card with a higher value, you'll be able to get double what you originally won.
The lowest paying combination in the game is a pair of jacks or better but as your hands increase in value, the value of the payouts will increase too. The next best combo to get is two pairs, followed by three of a kind, a straight, a flush, a full hour, four of a kind, a straight flush and finally, a royal flush which is not very easy to get. Should you manage to get even three cards that could turn into a royal flush in your first hand, keep them. They could lead to a big payout.
Though there is no set strategy for the game and luck plays an important part in its outcome, there are a few tips you can keep in mind if you want to boost your odds. The first is to always bet the maximum amount of coins on each hand. Betting five coins will give you a much bigger payout should you hit a winning hand. More importantly, have fun while you play, a task that will be easy given that this game is a fun one.