PLAY AT BOARDWALK IN CASINO IN EASTERN CAPE
Sometimes referred to as the Disneyland of the Eastern Cape, the Boardwalk Casino is, in fact, more than just a hub in which players can visit the casino. This centre was created with a Victorian look and feel and offers a divine view of the ocean, the ideal locale in which to relax, enjoy and potentially win money and prizes. The casino is a resort that houses entertainment hubs, restaurants, bars and more, and is the ideal getaway place for families, for couples and for those who need a break from the frenetic pace of their lives. With curio shops available, it is also a wonderful place for tourists to stay.
The casino itself is a marvel, incorporating everything that is exciting in Vegas in a much smaller form, but one that carries the same thrill as the big American city. The only casino regulated to operate in the area of the Nelson Mandela Bay, the tables, slot games and more mean that every player's needs and desires are taken care of. There are over 900 machines to play on, both for those on a budget and those with more cash to spend and there are more than 24 tables all housing popular games such as blackjack, American roulette, poker and more. Though players have their choice of sitting in the smoking or non-smoking sections of the casino, both offer equal amounts of entertainment.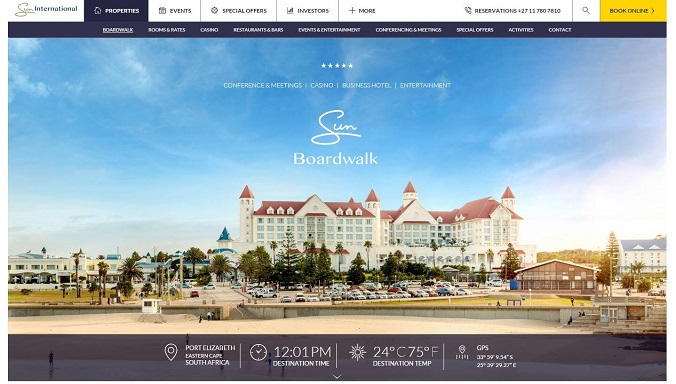 The casino works on a smart card system, rather than working with cash, making it a much more secure place to place your bets and the Charter Club caters to those VIP players with a little more to spend, looking for a luxurious experience. Additionally, players would be well advised to keep an eye out for the casino's regular mystery jackpots, which could mean an instant win of a car, a holiday or cold, hard cash.
Once the games are done with, visitors to the Boardwalk Casino centre can head out to any of the restaurants or bars available, all of which offer exceptional food and drinks. Fast food eateries are also on hand, as is the Kipling Brasserie, which promises a five-star experience for visitors of all ages. For those visiting from out of town, there is also the Tshawe Bar which promises local cuisine for those with curious palates.
Those looking for a few days' getaway will find that the hotel, convention centre and spa offer more than 100 rooms, all facing the ocean, and all with access to the pool, the heated pool, the spa and more. The treatments are African inspired, which means those who have never had a hot stone massage will be thrilled by the new adventure of having one. This truly is a magnificent jewel in the Eastern Cape's crown and no matter how big or small your family, even if it's just you by yourself, booking a stay at the Boardwalk Casino means checking into luxury beyond your wildest dreams… and the chances to win mean non-stop entertainment too. Remember, if you cant get to the casino physically, simply open your computer or mobile device and type in https://www.yebocasino.co.za and play from the comfort (and safety) of your own home.