The Youth are an essential part of any society. That is why youth day is an official holiday in several countries including South Africa. Yebo Casino joins the commemoration by giving its online casino players a promotion on the day. The bonuses are also available to players in countries that do not have Youth Day as a public holiday. So even if you are playing from Swaziland, Lesotho or Namiba you can also redeem the bonus.
For such a special holiday your favourite South African online casino has done a little extra. Just because you our top online casino game players deserve the best.
Youth Day- South African Public Holiday Promotion at Yebo Casino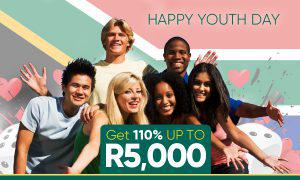 When you visit the best online casino in Mzansi on Youth Day make sure have bonus code(S) ready, emphasis added. The casino is offering all players at the casino a match-up bonus and a free bonus. This exclusive promotion is accessible all day during the holiday. The actual details of the promotion are below.
Match bonus
The 110% match-up bonus is available to all real money players who deposit a minimum of R100 on Youth Day. The maximum bonus that players can receive with this bonus is R5,000. Players will have to quote the Code YDAY110 once they are in their Yebo Online Casino account.
Free Bonus
There are four levels at which the bonus is being awarded. Just as Chinua Achebe said "…the sun shines on those that stand before it shines on those kneeling…" so are we rewarding our players. Players that are higher up on the VIP ladder receive higher bonuses.
NVIP. At this level players gets R100 free to play and win real money on the best online casino games. Code: YDAY1 will give you this bonus.
PVIP. R250 is up for collection to players at this level. The code to use when redeeming the bonus is YDAY2.
VIP & VIP PLUS. If you have VIP status or higher you can get R500 or more, free on youth day. There is no obligation to collect the free money. But should you feel like receiving R500 free is a good way to commemorate youth day then use code YDAY3.
VIP ELITE & PLATINUM. Use Code YDAY4 to get your R1,000 Rand bonus. You deserve it.