The Wrong Guy
After a really run of bad luck. Thabo Van decided to use his last savings to try and rescue himself from joining the destitute in Jozi. To make sure that no one stood in his way Thabo decided to go gamble at one South Africa's gambling resorts, away from anyone who knew him.
You Cannot Runaway From Your Bad Luck
After a couple of days at the resort, Mr Van was out money. It seemed the bad luck had not left him. In fact, things had gotten so bad he could not afford a cigarette. After explaining the really sad story of how he had lost the last bit of his money, a fellow gambler gave him a chip to exchange for a packet of cigarettes.
The bad luck continues…
When van gets to the bar there is a guy in a heated argument with the barman. After several attempts to get the barman's attention, Thabo is clearly frustrated. A passerby helpful suggests that Van uses the bar at the other end of the casino.
Out of the Greatest Despair Comes the Biggest Jackpot
On his way to the other bar, the habitual gambler found it hard to pass through so many gambling games. Finally, he placed the chip on a roulette table betting on his now-unlucky number 17. To his delight, the ball fell right on the money.With his new found fortune, Thabo Van returned to the blackjack table where he continued winning beyond his wildest dreams.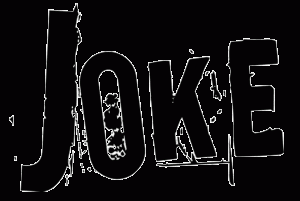 After the win, he decided to go around all the provinces in SA sharing his motivational story. During each talk, he would say how he was indebted to his benefactor and how he wanted to share his wealth with him.
One day during a lecture, after making the usual declaration, a man jumped up and shouted, "I am the guy who gave you the chip." As calm as ever Thabo Van answered.
"I am not looking for you, I am looking for the guy who told me to use the other bar."
This week we do not have a bonus joke instead we have a Just a bit of friendly advice to all the men. Regardless of whether you are in Namibia, Swaziland, Lesotho or even Ghana you need to take heed.
"Do Not Ask to be made irresistible to women, you may just be turned into a slot machine."
Happy gambling at Yebo Casino.