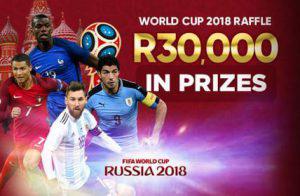 The 2018 FIFA World Cup is still on with fans all over the globe chanting and cheering for their favourite teams to lift the famous golden trophy. Some have shown belief in their team by participating in numerous betting competitions.
The likes of Lionel Messi, Cristiano Ronaldo, Luis Suarez and Paul Pogba are amongst the superstars who have made this World cup tourney more vibrant and phenomenal for the fans.
Yebo Casino has taken this opportunity to rewards loyal customers by introducing a staggering R30 000 raffle competition. This that is in line with current soccer World Cup tournament. There are many prizes to be won in this raffle ticket competition, participate and stand a  chance to walk away a winner. The lucky will win a Jackpot prize of R30 000.
Other Promotions at Yebo Casino
Yebo casino also offers amusing online progressive slots. There are various games where players can win real money and walk away with hefty prizes. Players have a chance of playing the Jackpot Piñatas online progressive slot whereby one can win a huge prize of up to a million Rands. Activating five Piñatas in line will win you a reset value which is up to R2, 500 000.
Aztec Million is also amongst the top paying games, which also has a massive jackpot prize to be won. The game's highest reset price is up to R100 000. Cleopatra gold is also amongst the games with the top paying jackpots.
Enjoy the gambling experience at Yebo casino, the only casino that grants you an opportunity to win big. Like always remember to gamble responsibly!