Trevor Noah's light-hearted comment about Africa winning the World Cup has triggered an outrageous outcry from the French citizens.  The joke made by Noah landed him in trouble with the French officials accusing the Daily Show Presenter of being a racist.
The comedian meant that many players who played in the French national team are from Africa. Either they were immigrants or their parents were immigrants who travelled to Europe.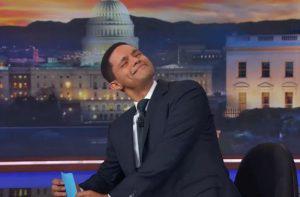 "African won the World Cup, he said; "I get it! They have to say its French team, but look at those guys you don't get that tan in the South of France!"
Paired Identity
Noah raised a point saying that Africans in both America and France face sensitive immigration issues with many of them being threatened to be sent home. However, Trevor found it very strange and absurd that France soccer players cannot be called French and Africans at the same time.
The unanswered questions
Noah furiously asked questions replying to the French ambassador's accusation to him. Trevor implied that why can't black people in France be called both French and Africans. "Why can't they be both?" "Why is that duality only offered to a selected group of people?" He mentioned that the French ambassador was simply saying that for one to be French he must abolish all the African in him. "What they're arguing here is in order to be French; you have to erase everything that is African?"
Unlike the French, Trevor Noah hails Americans for embracing all the races in the country with love and oneness without any discrimination whatsoever. "An American can attend a parade to celebrate his or her Puerto Rican or Irish heritage.  At the same time being American and carrying the American in you despite your roots and beliefs.
At Yebo Casino we celebrate and respect all the roots and beliefs. Play the best online slots games that suit your culture.