Tourists who visit South Africa must always be on the safe side in order to enjoy our beautiful nation. Mzansi is dubbed the rainbow nation. This means that the country has a shared community with different types of races from different countries.
However, South Africa has a record of criminal activities which is well known around the world. This can somehow scare away tourist who want to visit this beautiful nation with beautiful people.
Despite that South Africa is one of the most beautiful countries in Africa, with a modern infrastructure. Many tourists and travellers have been flooding Mzansi to have wonderful experiences.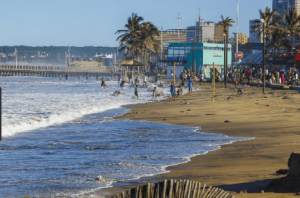 The life at the beach and the amazing sunshine in Durban is one of the amazing experiences any tourist would ask for.
How to be Safe in South Africa
As much as we can pour a lot of praise on the beauty of South Africa, you should know how to be safe in a country where locals can even caution you about the dangers in their own native land.
Know Places you should avoid
The crime rate in Mzansi is mainly high in townships.   However, not all townships or Lokshin comprise of brutal and heartless people. As a tourist, you can pay a visit to the historic township of Soweto where many gallant sons and daughter fought to liberate their nation. Moreover, you can have a delicious BBQ and cultured Shisa Nyama in the townships.
Avoid Walking at Night
By any means always avoid walking in the wee hours alone.  When driving at night also makes sure you don't pick up hitch-hikers on the freeway. So be aware and be safe always.